Revealed: The coolest venues for your 2023 work Christmas party
Written by Marie Dlt, Fri 28 July 2023
The office Christmas party might not be top of your list of priorities right now – let's face it, who wants to think about novelty jumpers and mulled wine in the stifling summer heat? – but before you know it, party planning season will be well and truly upon us all.
If 2022 was the year the work Christmas party returned to form after two years of pandemic-induced disruption, 2023 is the year to take it to the next level. From what we've seen so far, companies are looking for ever-more exciting themes, venues and entertainment to elevate their corporate events and enhance their employee experience.
Out of everything, the venue you choose for your work Christmas party has the power to set the tone for the whole event. But how do you find that perfect hidden gem which perfectly fits your brand, and can accommodate the type of event you want to host?
That's where Togather comes in. We've got some of London's coolest corporate party venues on our books, from huge industrial spaces to intimate speakeasies. 
Keep reading to discover ten of our most in-demand venues for 2023.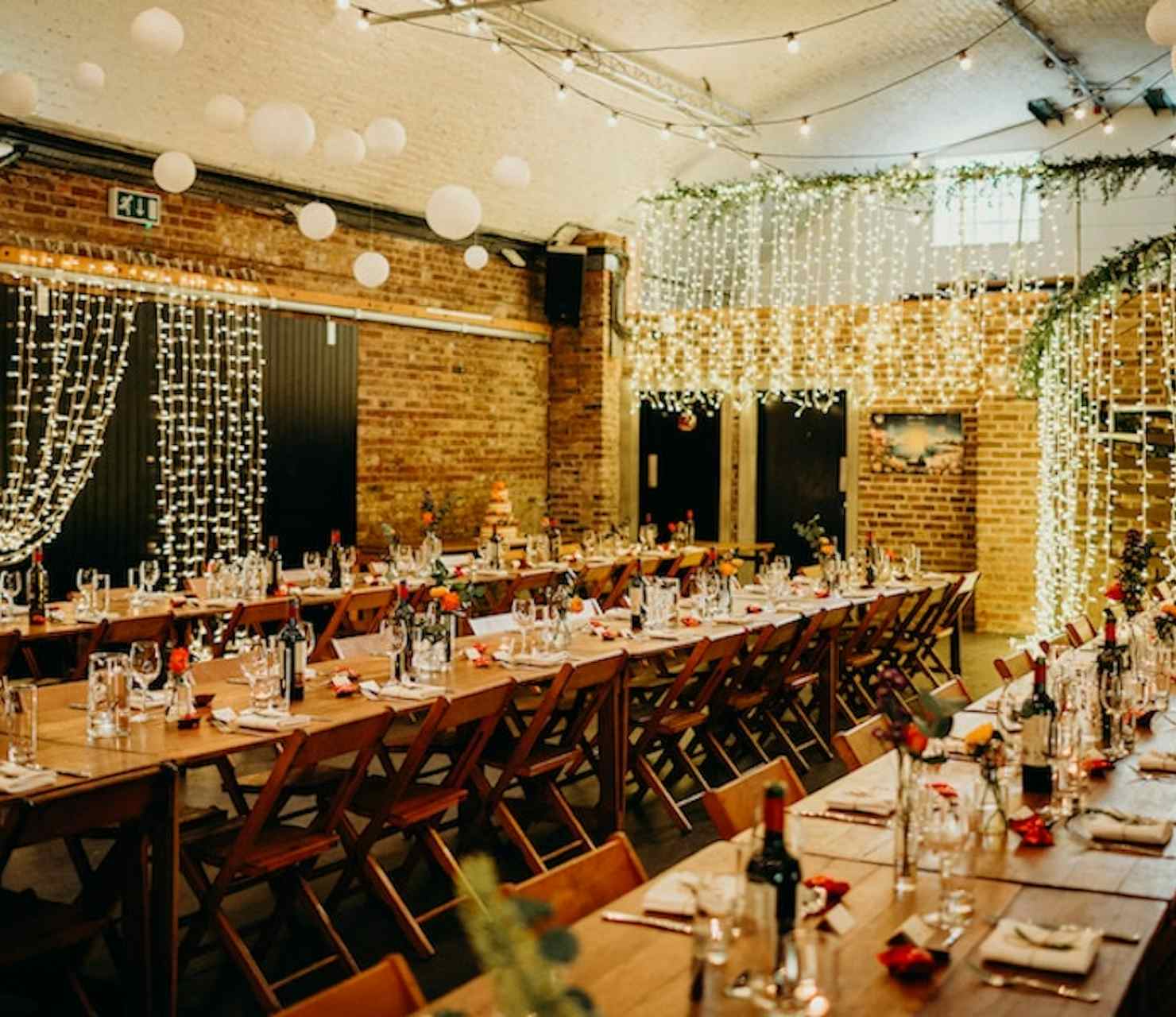 Stately glamour
Fancy going all-out with this year's work Christmas party? A stately home venue gives you the perfect backdrop for a black-tie dinner, or even a masquerade ball – the perfect excuse for your team to get all dressed up (and let their hair down!).
What's more, you don't even need to leave London to get that Downton Abbey decadence. The HAC is a magnificent Georgian house set among five acres of beautiful gardens, but is just a few minutes' walk from Moorgate. Country mansion aesthetics with a Tube stop down the road? Consider us sold.
Discover more and get a quote >
Historic & quirky
If you're looking for a work Christmas party venue with character, it doesn't get much better than the Museum of London Docklands – Canary Wharf's only Grade I listed venue.
With over 2,000 years of London's history lining the walls, this is a party venue with a difference. Opt for a stately dinner among the high ceilings of the Museum's 19th-century warehouse space, or embrace the building's quirks with a drinks reception on the cobbled alleyways of 'Sailortown'.
How to book Museum of London Docklands >
Riverside luxe
We have to admit, there's something special about the Thames at night. And with floor-to-ceiling windows that have you feeling like you're floating on the river itself, Glaziers Hall in London Bridge is the perfect place to take it all in.
The venue has a number of room options to suit the size and feel of your work Christmas party, as well as an impressive A/V setup to accommodate speeches, presentations and – most importantly! – a floor-filling party playlist.  
What's more, their specialist events team works closely with you to plan your celebration down to the very last detail – which means you can relax and enjoy the end-of-year fun on the night itself.
Find out more about Glaziers Hall >
Townhouse chic 
Not many venues can boast of having a dramatic 18th-century vault on offer alongside a formal dining room decorated with breathtaking, world-renowned artworks – but then, RSA House isn't like many other venues.  
This magnificent Georgian townhouse is a stone's throw from London's Somerset House. And, as one of the city's only buildings to share the same façade as 10 Downing Street, it's guaranteed to imbue your work Christmas party with the grandeur and gravitas it deserves!
What's more, RSA House is home to a charitable organisation – the Royal Society of Arts – which means that by hosting your event there, you'll be directly contributing to charity as well. What's not to love?
Customisable blank canvas
If you're an events manager who really likes to put their own stamp on things, look no further than The Steel Yard. Located underneath Cannon Street Station in the heart of the City, this stripped-back railway arch venue gives you everything you need to host a work Christmas party for the ages.
The Steel Yard has an unbeatable sound and lighting setup, as well as a team on hand to give you as much or as little support as you require in the run-up to your event. It's the perfect choice for a cool, contemporary get-together with just a little bit of industrial edge.
Discover more about The Steel Yard >
East London club
Inject some energy into the depths of midwinter with a work Christmas party held in one of East London's most sought-after clubs. Night Tales is a multifunctional space that offers an all-weather terrace and tropical-themed bar – ideal for banishing any winter blues.
The venue boasts professional catering facilities that can whip up anything from artisan pizzas to formal three-course dinners, giving you the freedom to choose what's best for your team.
Underground hidden gem
Always aiming to be one step ahead of the curve? Consider hosting your work Christmas party in a brand-new venue for some serious 'wow' factor. 
26 Leake Street is a new, 11,000sq ft venue in the heart of London which packs a real punch. The recent development of the old Waterloo tunnels unlocked some incredible, never-seen-before spaces – and the team behind 26 Leake Street have made the most of their potential.
The space has already played host to high-end fashion shows and glamorous social events. By hosting your work Christmas party here, you'll be in very good (and very well-dressed) company.
Learn more about 26 Leake Street > 
Renovated railway arches
Seriously, this venue's worth checking out for the stunning poured concrete floor alone. Behind the Bike Shed is a collection of four thoughtfully-renovated railway arches on a private road in Shoreditch, with each space finished to an impeccable standard whilst retaining the original features that make them unique.
Offering a mix of catered and dry hire options, this venue gives you the freedom to plan the perfect work Christmas party for your company.
Get a quote for Behind the Bike Shed > 
Stylish & decadent
The work Christmas party is a chance to really push the boat out with a special event that's a real treat for your team. For some companies, that means style, prestige, and a healthy dose of decadence – and if that's the case for you, we think we've got the ideal venue up our sleeve.
The Scotch of St James is a legendary venue, decked out in sumptuous trimmings and offering a to-die-for drinks menu. What's more, its cool credentials are unmatched: The Scotch was at the heart of London's music scene in the 1960s, counting The Beatles, Eric Clapton and The Rolling Stones as its regulars. It's even where Hendrix played his first gig.
Choosing The Scotch as your work Christmas party venue means you'll be tapping into a rich seam of London's musical history. Who knows, maybe some of that creative genius will even rub off on your team… 
Sophisticated speakeasy
If you're looking to create an atmosphere of indulgence and exclusivity, you can't go wrong with a speakeasy. Good's Way, a brand-new venue by King's Cross, is home to a hidden speakeasy bar where every detail has been carefully considered. 
Good's Way also boasts a themed saloon bar, which pretty much guarantees a good time. A London Christmas party that transports you to the Wild West? Sounds like a winning formula to us.