5 top tips for the perfect food truck wedding
Written by Oli Wells, Fri 26 July 2019
Take one look at any future bride's Pinterest and you are guaranteed to see a board littered with showstopping food trucks, beautiful mobile bars and glorious food stalls. Whether you're holding festival themed nuptials, you're keen to have a super chilled celebration or you're looking for something a little unique for your big day catering, a food truck wedding is definitely the way to go.
We've put our brains together over at Togather HQ to provide you with 5 essential tips for your food truck wedding. From logistics to consider, how to work alongside your chosen supplier and the perfect menu for your big day, have a read below for the full food truck wedding lowdown!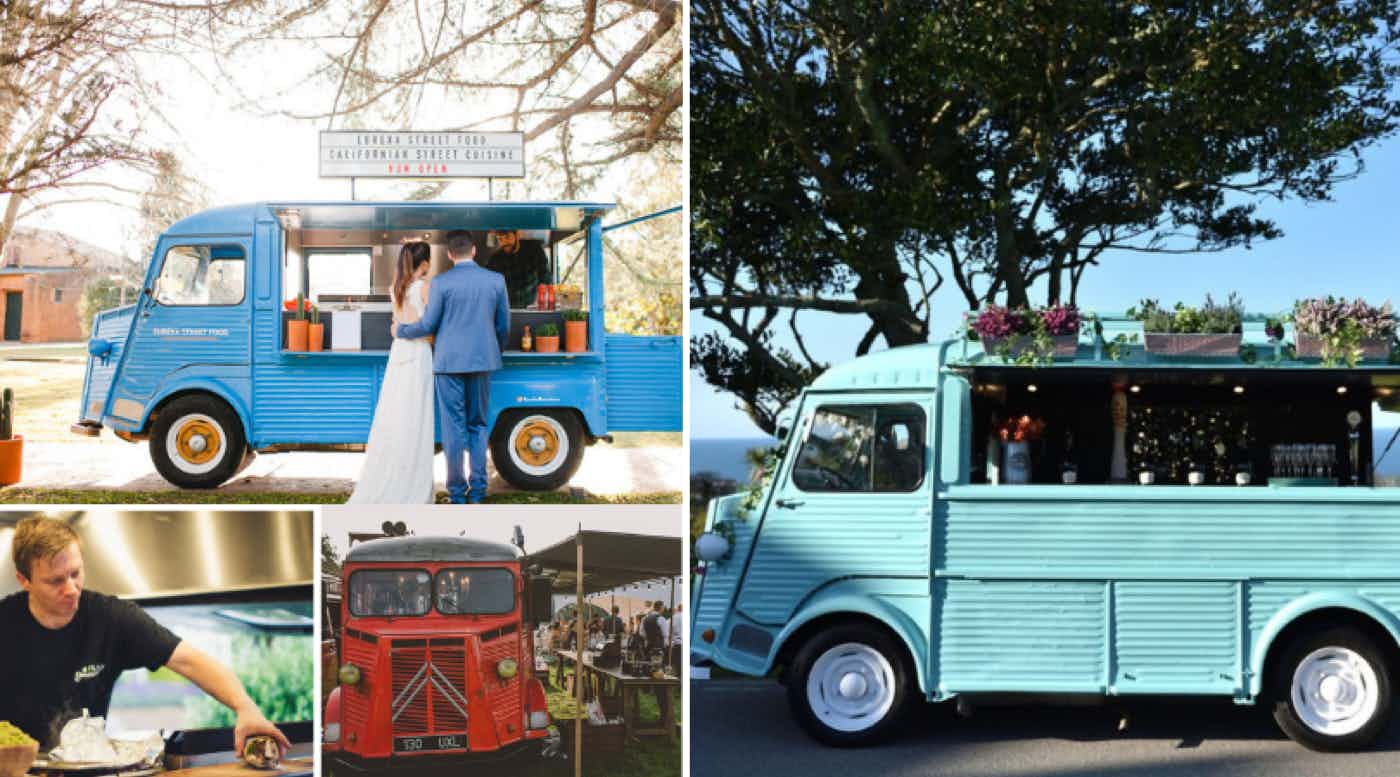 Make sure you nail the logistics
First things first, can your food truck actually access your wedding? This might sound like a no-brainer but in amongst all the excitement of your wedding planning, it's the technical bits that get lost in all the noise. 9 times out of 10 there is never an issue, but make sure to check with your venue to see whether they have height restrictions, adequate space and even the correct power points so your supplier can get things cooking. We don't want your guests having their dinner served from a car park now do we!
Think about the size of your guest list
If you're super popular and you have a guest list the length of your bridal train, you need to have an idea of what it takes to feed the masses. Your food truck supplier will, of course, help you to estimate how many servings you'll need but it's also important to have some insight into how many guests will be attending before you agree to any formal wedding food truck bookings. Don't get us wrong, most of the food trucks on Togather are used to huge crowds at mammoth festivals, but the team will still need to order in stock for your menu and would hate for you to pay for excess food or even worse - someone going hungry! It could be a good idea to estimate a slightly higher number than the actual number of guests you have, some people live for second helpings or you might have some surprise plus-1s on the day!
Consider how the season can impact your food truck arrangements
Whilst searching for your dream wedding food truck, keep the season of your celebration in mind. What time of year it is could impact your wedding menu; for example, if you're having a summer wedding, your chosen supplier could be more than happy to incorporate local, seasonal ingredients into your menu such as fresh fruits, zingy greens and ripe meats. If your wedding is falling in autumn or winter, these 'low season' dates can really play to your advantage as many food trucks can become much more affordable in these slower months - but don't you fret, they're just as delicious.
Plan your wedding food truck around your theme
On to the fun stuff now: with so many incredible food trucks in the UK, how on earth do you choose the perfect one for your wedding!? A great way to start the hunt is by considering your theme. Don't be vague by starting your search with just 'street food' in mind, help yourself out by tying the food you want into your wider wedding day theme! If you're throwing a festival wedding, for example, you may want to have a food truck that looks a little vintage to compliment your big day aesthetic rather than a boldly coloured VW van. Are you paying homage to your Asian heritage? Then take a look at the incredible selection of suppliers serving Asian cuisine like delicious sushi! Once you've found your perfect wedding food truck, speak to the food truck team - they will be more than happy to help you decorate their truck with fairy lights, a personalised sign, or other little adornments that will add to your theme.
Ask the food truck supplier how they are willing to personalise your menu
Our creative food truck traders spend their time travelling around the country cooking up a storm, and jump at the opportunity to make a wedding meal that is tweaked to your liking and a little bit different. Want wildly inventive gin and tonic tempura tacos? Consider it done with The Bearded Taco! Cocktails from Christabel's Art Deco 1980s ambulance? It's gin o'clock friends! Take your incredible wedding menu to the next level by working with your selected food truck team to personalise your menu. If you have two main dishes, why not name them after yourself and your lovely new life partner!? These small little details make all the difference to making your big day feel a little more special and our incredible selection of wedding food truck suppliers are more than happy to get a little creative with you!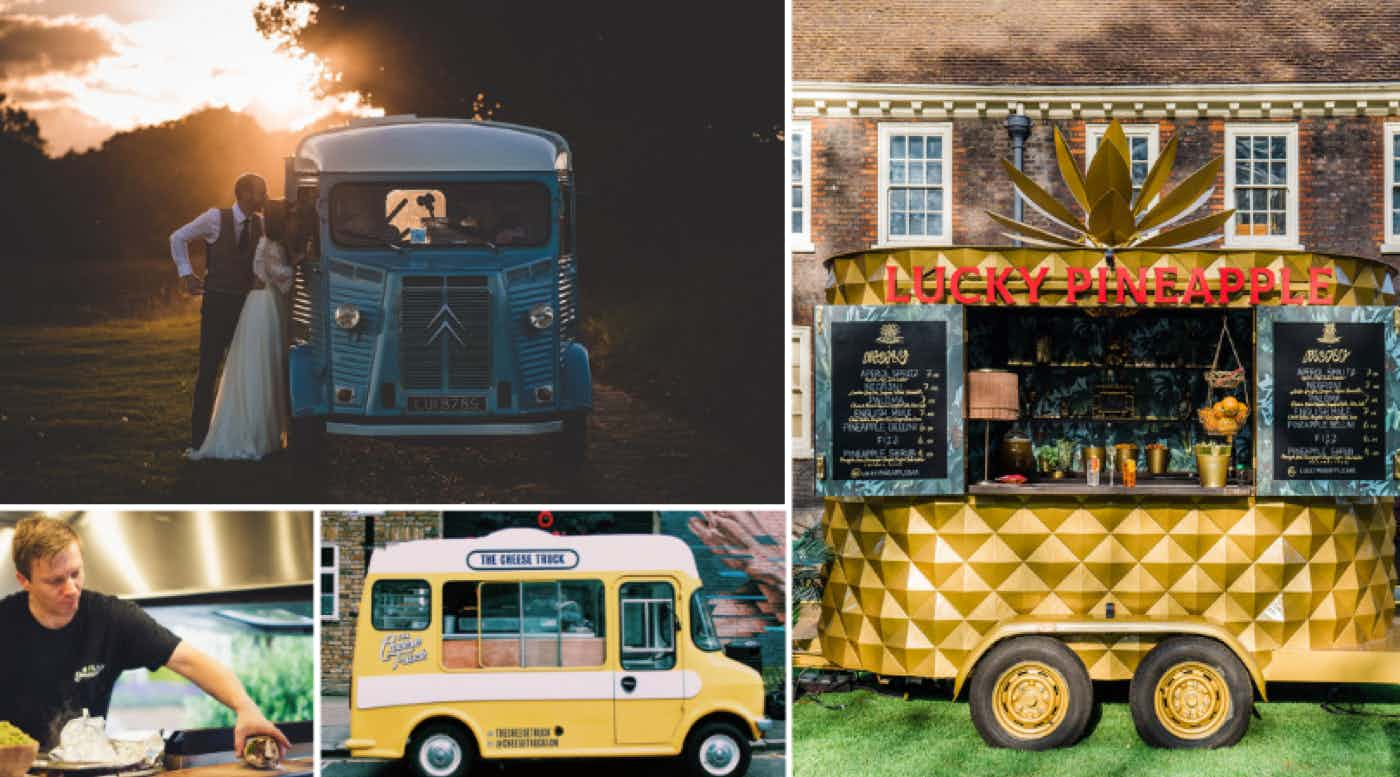 The Ultimate Food Truck Directory For Your Wedding
Food Trucks:
Drinks Trucks
Want to see more wedding catering options for your big day?
Check out all of our best wedding catering tips, tricks and traders HERE! Or if you can barely contain yourself and want to get a wedding food truck booked in straight away for your upcoming nuptials, you can submit an enquiry form HERE. One of our event pros will be in touch with you shortly to discuss your plans!