The 20 Best Christmas Party Venues in London
Written by Marie De La Teyssonniere, Tue 8 November 2022
The work Christmas party is the perfect way to thank employees for their hard work and offers a welcome diversion from the hectic daily grind!
Choosing the venue is the first step of the planning process. There are numerous locations that can be transformed into the appropriate backdrop, whether it's a low-key drinks event or a spectacular celebration, but choosing the right venue is crucial.
We're here to provide a list of the best Christmas party venues in London and offer advice on the booking process to help make your party one to remember.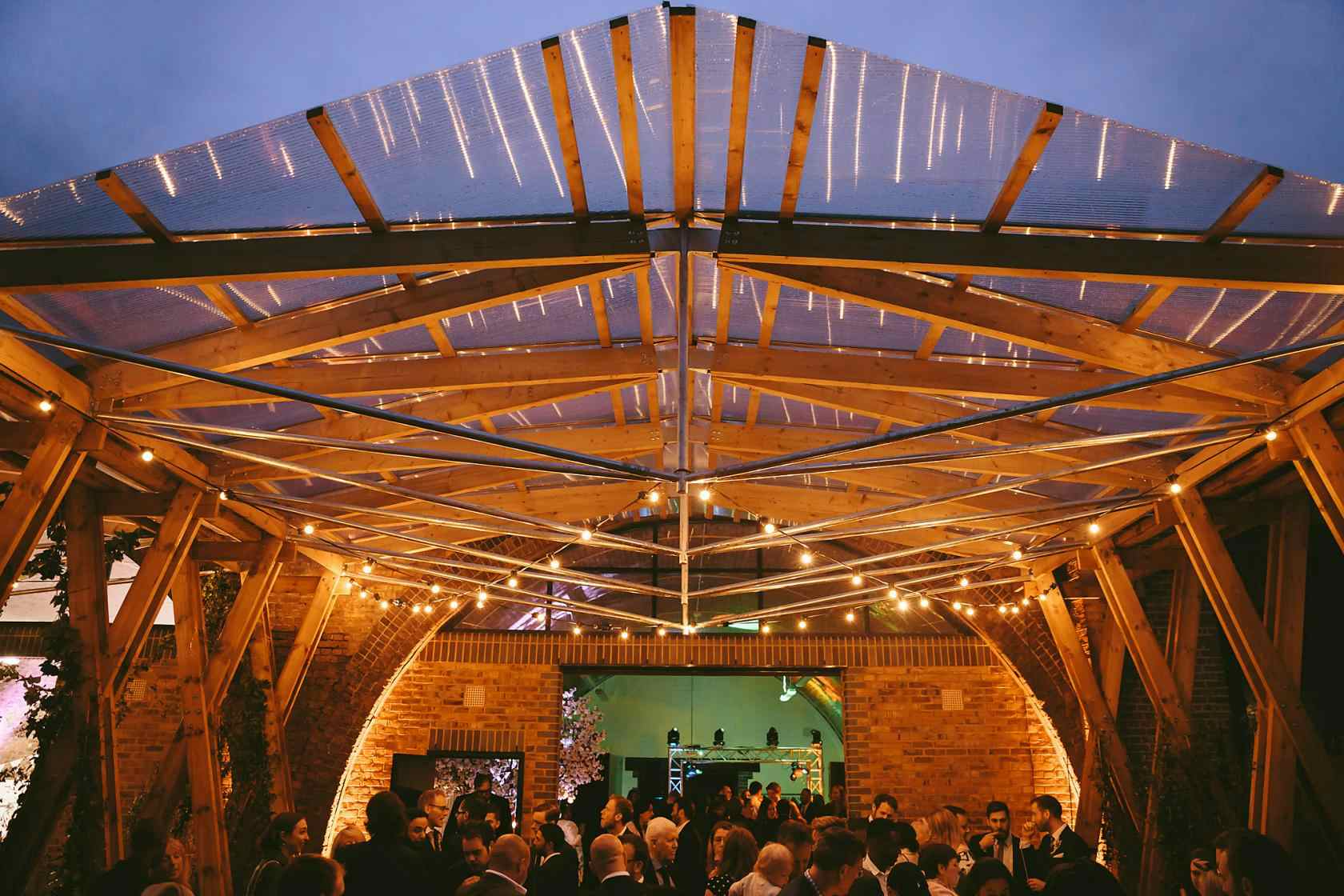 Booking your Christmas party venue
Before deciding on a venue, you should consider things like your budget, the location, number of guests, your ideal seating arrangement, food and security. If you have these things sorted out, throwing a memorable Christmas party should be a breeze.
Ensure the cost meets your budget
The cost of your party will vary depending on location, number of guests, menu and drink choices, and so on, but on average, corporate Christmas parties in London cost around £90 per person, and little less in other parts of the UK. So, if you have up to 50 guests, your party will cost roughly £4,500.
Choosing the right venue
Once you've narrowed down some viable options in the right location, confirming the capacity is key. Think about whether you'd like a sit down dinner or standing drinks as that will impact the size of the space you need.
Don't delay in booking
Christmas is a very busy season for venues. If you want your preferred dates, be sure to reserve the venue for your Christmas party well in advance - we see a huge uplift in Christmas venue bookings starting in September/October so make sure you beat the rush and get your pick of the venues!
Food and Drink options
The food and drinks at a Christmas party are often what people remember the most. When considering a venue, be sure to check their catering options.
We work with hundreds of 'dry hire' venues, with a lower cost consisting only of the venue hire, allowing you to bring in your own catering and drinks suppliers which may end up being cheaper. If you need to book catering for your party, check out our guide here.
Now that you know how to book a Christmas party venue in London, let's look at the best venues you can book through Togather.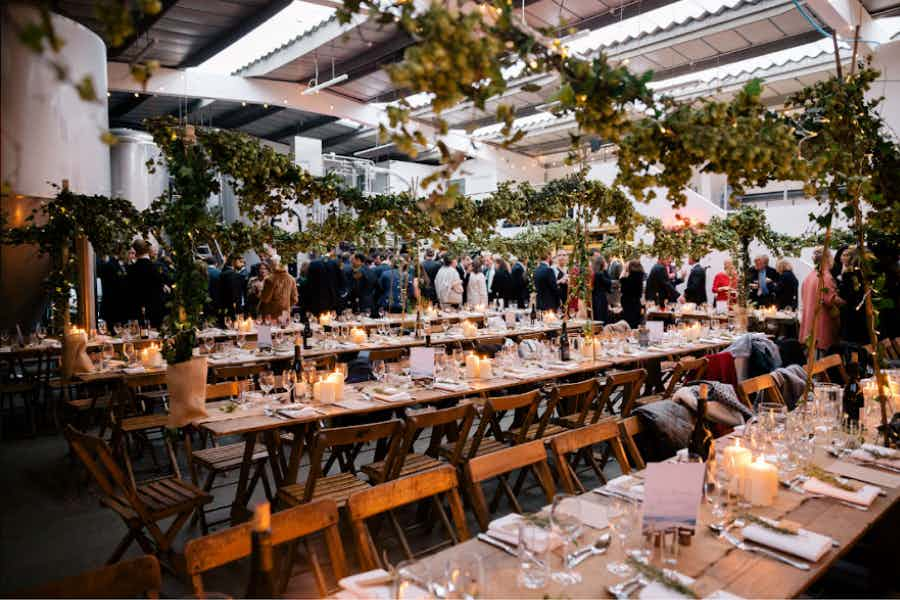 1. Small Beer Brewery (SE16)
If you're looking for a unique space to hold your party, the Small Beer Brewery would be perfect. An incredibly versatile open space, this venue can accommodate a dinner + dance layout to a full sit down 3-course meal or standing reception.
Whether you're after a minimalist styling, dry hire and open plan - or you've got ideas for grand scale production and events, the team there can make it happen.
2. The Venue on Middle St. (CR0)
The Venue on Middle Street specialises in providing a stunning atmosphere, where guests can enjoy an industrial-luxe atmosphere on three levels of this former printworks until 3 a.m.
The owners have more than 20 years of combined experience in planning and hosting events, and they are supported by a fantastic team of event professionals, all of whom are passionate about the business of celebrating and vow to make the spectacular event you've dreamed of a reality.
3. Ice Tank (WC2H)
Ice tank is a one-of-a-kind blank canvas venue in the heart of Covent Garden. There's no doubt that a Christmas party here will be a blast.The venue is fully equipped with AV equipment ideal for presentations, and its contemporary, Scandinavian interior is really unique - and would be perfect for a White Christmas theme!
The ground floor includes a custom-built luxury kitchen with a large skylight and modern appliances. The lower ground level has additional studio space, and another fully working catering kitchen. The studio area can be used as a bar, buffet, dancing floor, or changing room.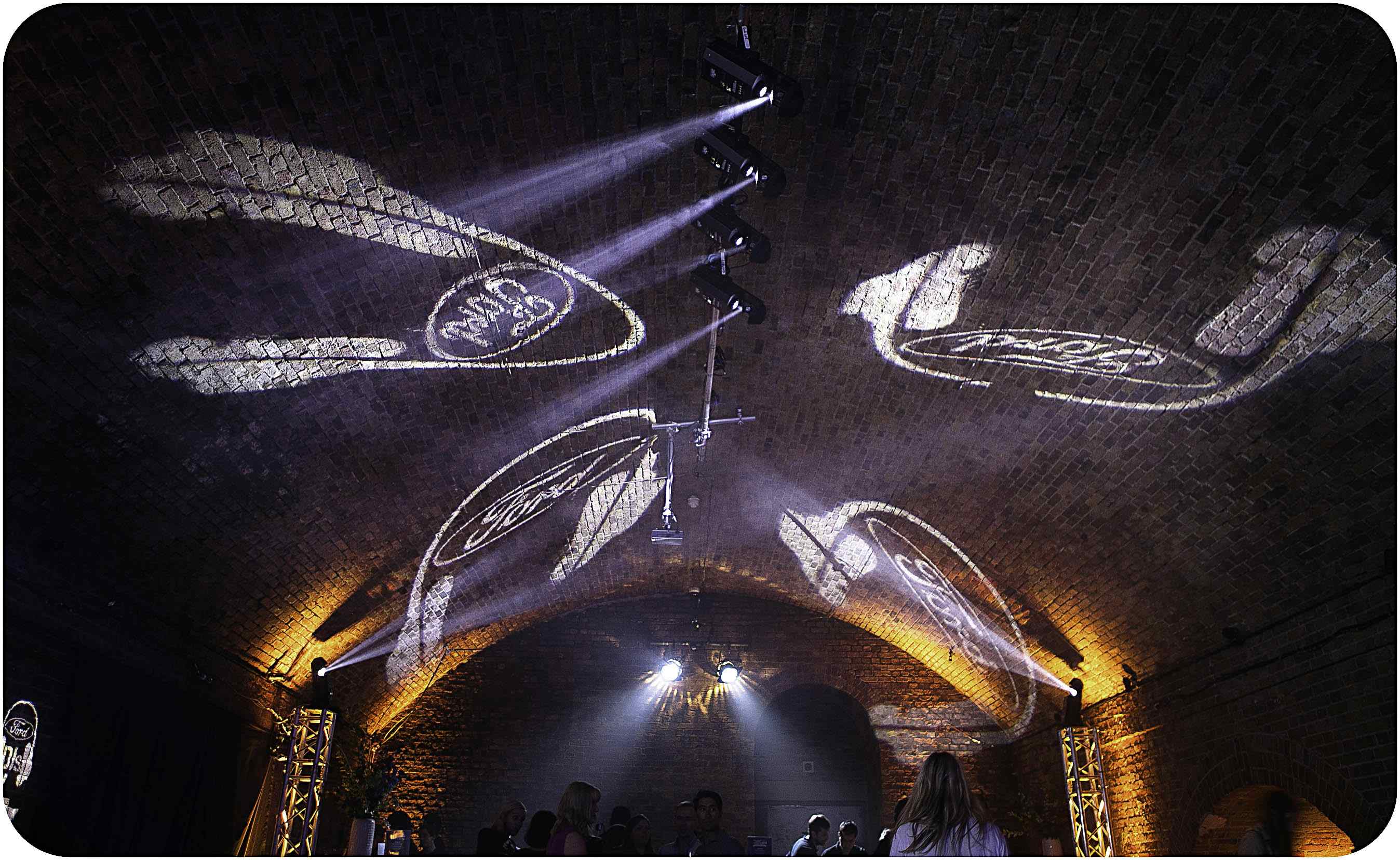 4. Village Underground (EC2A)
Village Underground is a beautiful 5000-square-foot blank canvas venue in the heart of Shoreditch. A former Victorian warehouse, it has many inspiring architectural features - from the elegance of the main atrium to the fabulous bare brickwork of the 19th-century vaults - this venue really is a showstopper for any party.
The venue has one main space, two arch spaces and a fully equipped green room. It's also kitted out with a full lighting rig and an Encore PA sound system.
5. Hoxton docks (E2)
Hoxton Docks is a beautiful canal-side venue for hosting Christmas parties in London. Previously a coal storage facility, this venue offers a unique blank canvas for any project or event, perfect if you're planning a themed party.
Their smaller rooms, in addition to two courtyards and two rooftop venue locations, include plenty of storage and office space. They also have lighting equipment available for hire.
6. Vauxhall Food and Beer Garden (SW8)
The Vauxhall Food and Beer Garden is an urban paradise in the heart of Vauxhall. The covered astroturfed garden features modern geometric design, and provides a much-needed respite from the hustle and bustle of London. The garden has recently been extended and has twice as much floor space.
Among the various international street food options are French tacos, pizza, Greek, Chinese, burgers, and Caribbean cuisine. There are also two newly expanded bars selling everything from wine to draught beer.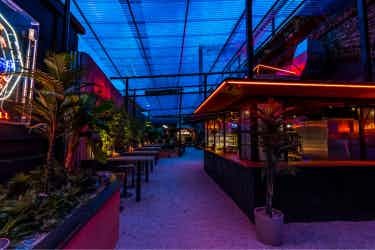 7. Night Tales (E8)
Night Tales is a multifunctional terrace and club - an ideal venue for Christmas parties. With three dynamic rooms accommodating up to 600 guests, Night Tales is East London's most extensive terrace bar and event venue.
They run four cocktail bars inside their venues, each with various drink packages, an in-house PA system, lighting, and DJ equipment. Thanks to their solid musical reputation, they can secure resident DJs to meet your party's needs. Security and essential event staffing are provided on request.
8. Wandsworth Civic Suite (SW18)
Wandsworth Civic Suite consists of two sizable interconnecting event rooms, available to hire separately or together. It's the ideal blank slate that can be customised to accommodate your party needs, and with capacity to hold up to 800 people it's perfect if you're looking for a big party venue.
The restaurant of Wandsworth Suites serves both seated, and buffet meals, has an alcohol licence, and allows private catering. You'll also have access to an internal organiser to help you plan your ideal event.
9. TheHackney.co (E2)
TheHackney.co is a lovely, one-of-a-kind venue with its industrial touches, hanging greenery, and natural light. TheHackney.co's experienced events manager will work directly with you to take care of everything and guide you to get the most out of their venue.
The services provided include custom cocktails from the bar, bartenders, personalised table settings, and connections to top caterers. The venue offers a range of food and beverage menu options, or you can bring your own caterer.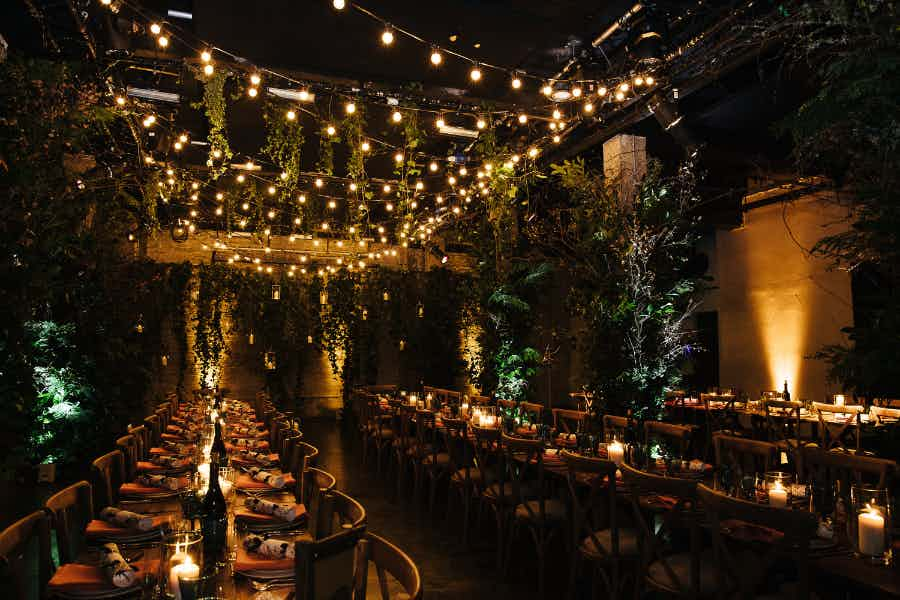 10. Studio Spaces (E1W)
Studio Spaces, a modern warehouse conversion, provides an epic atmosphere for any party or celebration. The former factory is a vast 743 sqm spectacular warehouse space in the vibrant St Katherine's Dock area of East London, minutes from Wapping and Tower Hill stations.
The three areas that comprise the flexible space are the White Studio, Black Studio, and Warehouse.
11. The Steel Yard (EC4R)
The Steel Yard is made up of two stunning Victorian railway arches, a reception bar, main hall and mezzanine level and is a perfect venue to host a Christmas party. Situated under Cannon Bridge Station, in the city's heart, it's just steps from Bank and Monument stations.
The space is customisable, and offers a lightning-fast internet, in-house lighting, AV, and music equipment, as well as an excellent team available to attend to your every event need.
12. Hoxton Arches (E2)
Hoxton Arches is a hidden gem in London's vibrant East End, housed inside a beautifully reconstructed railway arch. With original exposed brick and distressed elements, this remarkable two-room facility with 2,500 square feet offers high-end alternative event space for hire.
Hoxton Arches in East London was designed as a versatile event venue that can be rented for various purposes and could be a perfect fit for your Christmas party.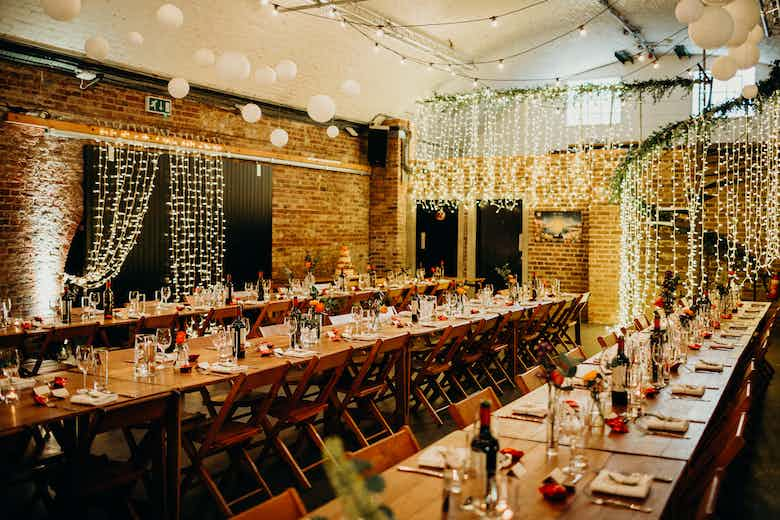 13. Shoreditch Studios (EC2A)
Shoreditch Studios is a popular multi-purpose railway arch event space, consisting of two interconnected studios with a total size of roughly 3,500 square feet.
Venue features include exposed Victorian era brickwork, high ceilings, industrial lighting truss, PA's in both studios, spiral staircase, green rooms, air conditioning, ample bathrooms, high speed internet, mezzanine lounge area, loading area and a spacious courtyard with city views.
14. Pump House Gallery (SW11)
Pump House Gallery in Battersea Park is another excellent venue to host your Christmas party. Located on the banks of the River Thames in Wandsworth, this venue really is in a beautiful setting.
A Grade II listed contemporary art gallery, nestled behind the boating lake. With multiple floors, including a mezzanine and impressive flagstone terrace, the space is floodlit with natural light throughout the year.
15. EartH Hackney (N16)
A hidden gem in Dalston for decades, EartH (Evolutionary Arts Hackney) is one of London's most prominent arts and events locations.
EartH comprises two main spaces and a restaurant. On the ground floor, a multi-purpose 1200 capacity dedicated events space and upstairs the theatre, a 700 capacity tiered seated venue with jaw-dropping, original Art Deco features. In the middle of the venue we have Earth Kitchen, which is a great bar/restaurant space for 300 guests. Each space can be hired individually or the venue can be hired as a whole for a complete takeover.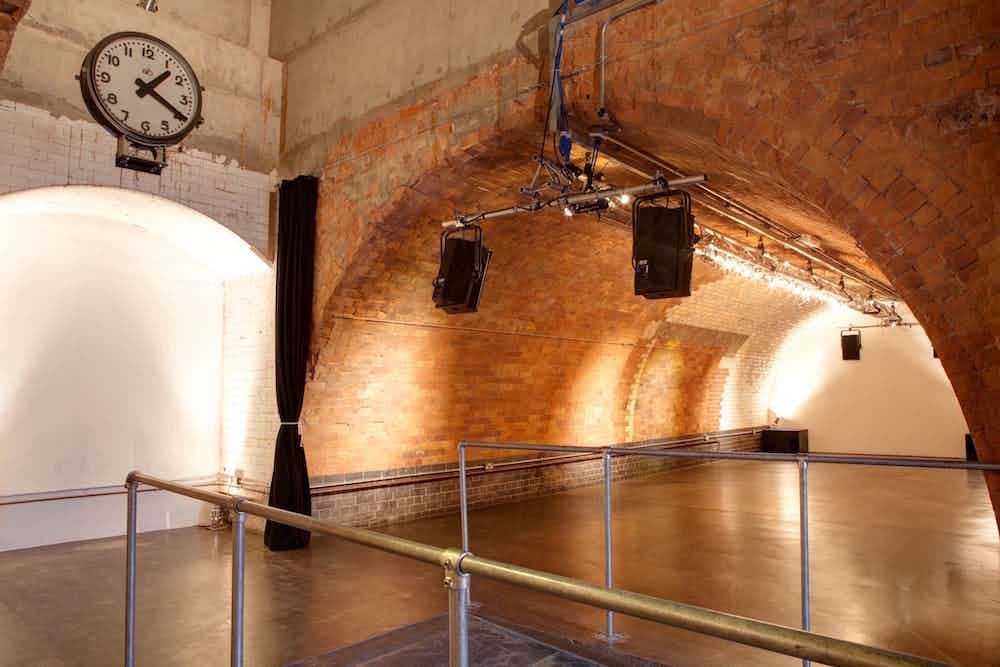 16. Kachette (EC1V)
Kachette likes to stay hidden in plain sight. Located on busting Old Street, there is no venue name or address and the entrance is tucked away between two railway bridge…it doesn't get more Shoreditch than this.
The venue consists of two beautifully restored railway arch rooms with exposed Victorian era brickwork, open rigging, stunning black gated entrance and arched door and its trademark train station clock which is situated inside the venue foyer. It can be hired exclusively as a one or two room venue.
17. Big Penny Social (E17)
Big Penny Social is a versatile event space situated on Blackhorse Lane. It incorporates the UK's largest beer hall and can hold over 1,400 people, offering a flexible event space and a spacious, sunny beer garden.
Their enormous courtyard is a veritable sun trap, equipped with a shipping container bar and an audio system for DJs and performers. They can also provide a fantastic indoor/outdoor combination venue due to linked access to their Event Area.
18. Behind the Bike Shed (EC1V)
Behind the Bike Shed boasts four large redeveloped Railway Arches that span 12,000 sq ft in the heart of Shoreditch.
All arches have been renovated to the highest standard, whilst keeping original features and providing a blank canvas for private events. Arches 3 & 4 are available for dry-hire, accommodating 350 people, both have underfloor heating, beautifully poured concrete floors and multiple 3 phase power feeds.
19. Burlock Rum Room (W1U)
The perfect backdrop for a variety of quirky events and special occasions, Burlock Rum Room, is located just off Oxford Street. This secret basement bar allows you to escape the hustle & bustle of London.
The 1930's Havana-style basement bar can accommodate up to 150 guests mixed seated and standing or 45 fully seated. They also open late-night which means you can keep the party going till the early hours!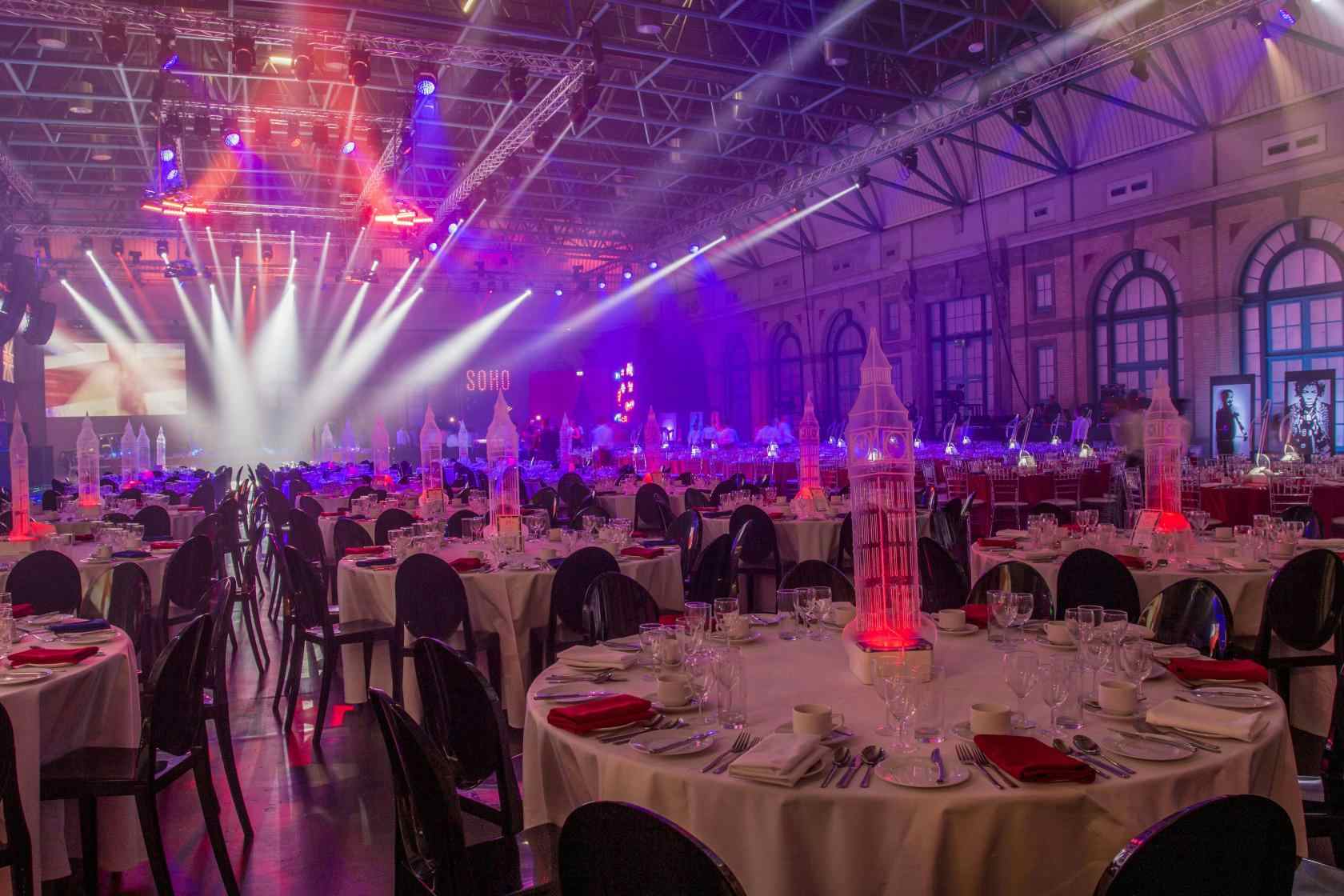 20. Alexandra Palace
And last but by no means least, Alexandra Palace. The ultimate iconic venue to hold your Christmas party. The award-winning Grade II listed Victorian structure has nine versatile function spaces to host a wide range of events. They can organise events ranging from 250 to 10,250 participants and anything in between.
Set in 196 acres of parkland with amazing panoramic views of London's skyline, this venue is the ideal setting for a memorable and fun Christmas party. The venue is also well connected to Central London's underground and mainline terminals and offers 1,200 on-site parking places.
Getting started
There are a lot of things to consider when choosing the ideal Christmas party venue, but it doesn't need to be a strenuous task. With Togather, you just have to enter the details of your upcoming event on our quick form, like the date, number of guests, desired venue type and style, the space layout, and so on, and our team will help you find the most suitable venue for your Christmas party.
We can also assist you in locating and hiring other suppliers for your event, like caterers, bars, photographers and videographers, event workers, and florists. Just fill out our quick form and get some quotes today!