Questions to ask your wedding photographer
Written by Ilana Sacks, Mon 26 August 2019
You've done the research, had all the recommendations and have finally got your shortlist of the best photographers for your wedding. Now all you need to do is whittle it down to just one... We've got you covered with these top questions to ask to make sure you and your photographer are the perfect match.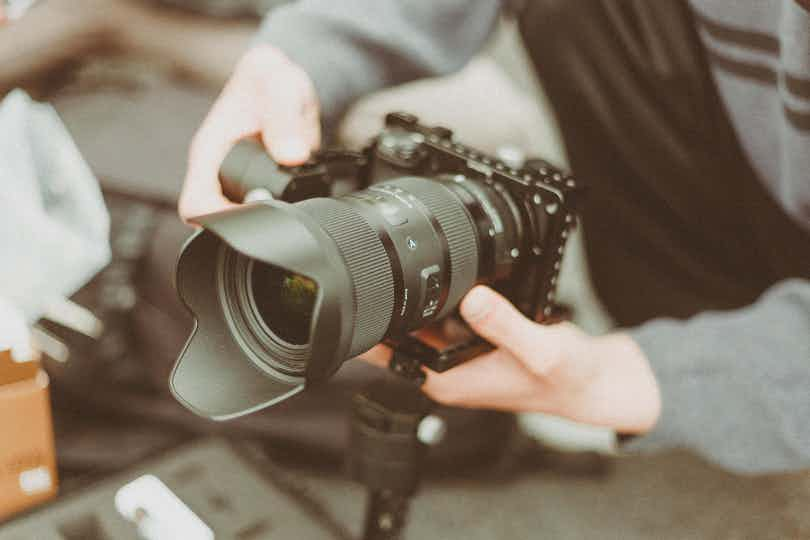 1. Have you ever worked at my venue before?
If they have, they'll be able to show you the photos so you can get an idea of their style and how your photos might come out. If they've never worked at your venue before, now is the perfect time to set up a visit before the big day. A visit will give them a chance to work out some great spots for photos and get a good feel for space and light.

2. How many hours are included in your package?
Some photographers will only attend for a certain number of hours, other photographers operate an "I'll be there until I've got all the shots I need" approach. The latter works well as things almost never run on time and if your photographer has a hard stop time, they may end up missing important events such as cutting the cake or your first dance.
It's also definitely worth running your planned timings past your photographer - if they're experienced, they've likely attended hundreds of weddings and events so will be able to tell you if you're being too ambitious with your tight schedule!

3. How much would additional time cost?
If things run over, it's good to know you'll still have the photos to relive every moment. Booking in a couple of hours of extra time will give you peace of mind at the wedding and avoid having to rush through things to make sure they get done before the photographer leaves!

4. What information do you need from me before the day?
Contact numbers for key people, timings and addresses will help to keep things running smoothly. It's often a good idea to give bridesmaid/ushers' numbers rather than your own to make sure they deal with any logistical issues on the day and you're free to enjoy the build-up to your wedding stress-free!
5. If your style is mostly candid, will I still get formal, posed portraits (and vice versa)?
Some couples want informal style photos, capturing moments where the wedding party and guests are unaware. Some want more formal, posed pics and other couples might want a mix of both - mostly candid but with a few "must-have" posed shots. Whatever you're looking for...it's important that you and your photographer are on the same page!
Some photographers will subcontract a "second shooter" to capture these candid photos while the main photographer ticks off the "must-have" posed shots - it's worth asking whether that's an option if you want a mix of both.

6. Can I give you a list of important photos we'd like to get?
Shots of immediate family, wider family and school friends might be really important to you. Giving your photographer a list of these must-haves (with names of who should be in each shot) will make sure you have all the photos you want! Roping in an usher or two to group people and get them ready for their turn will make everything run smoothly and let you get back to mingling!

7. How many photos will we receive?
Your photographer will likely take well over 1000 images of your wedding but you won't get all of them, for good reason! Photos with eyes closed, people in the way or unflattering angles are not going to make your wedding album. Check with your photographer how many edited images you might expect to receive.

8. How long will it take to get the photos?
This can vary depending on the time of year. If you're getting married in the summer, you may wait a little longer than if you had your big day at a quieter time of year. 4 weeks is generally the average time it takes for your photos to be processed and edited but check with your photographer to manage your expectations and give you something to look forward to.
Some photographers may offer pre-release photos or "selects" - the first handful of edited photos that a photographer gives to the bride and groom in the first couple of days after the wedding so they can share with family and friends or post on social media. Then they'll get down to editing the rest!

9. What format will the photos be in?
Photographers generally offer a variety of packages. You can go the whole hog and order a complete printed album or just get digital copies to print yourself. Either way, it's good to discuss options and work out what works best for you!

10. How much of a deposit do you require and when is the balance due?
Booking through Togather means you choose how you pay. You can pay the whole balance up front or lock in your photographer with just a 5% deposit and pay off the rest of the balance with a monthly payment plan. Either way, the money is held in a secure account until after your wedding.
Looking for a photographer for your event? Submit an enquiry here and we'll connect you with the some of the UK's top talent.