The ultimate guide to hiring a marquee
Written by Sophie Gill, Tue 22 September 2020
Marquees are the perfect way to provide tailored space for guests at your event. It's not often that you have to consider hiring one though, so when it comes to picking the right choice for your event, there are a few questions you're going to need answers to.
Below we provide answers to questions like: What type of marquees are out there? Which style is best for me? Who provides what I'm looking for? What size marquee do I need? How much is it likely to cost? What other accessories should I be thinking about?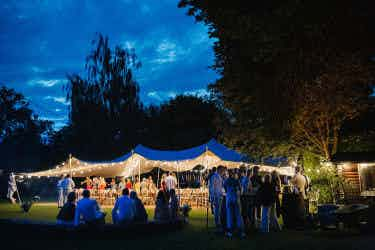 Types of marquees, tents and structures

Traditional marquees
Traditional marquees have several names; pole tents, soft tops (not to be confused with big tops or circus tents), or guyed marquees. The one thing they have in common is that the main structural element is the cover itself. Most traditional marquees use cotton-based fabrics as the covering, but PVC coated polyester is popular too as it's waterproof.
Traditional marquess can reach a width of 120 feet but most hirers will opt for frame marquees of widths above 40 or 50 feet (12 or 15 metres).
It's worth noting that sailcloth tents (similar to traditional marquees) have spiked in popularity recently. They usually have transparent sidewalls and a wooden structure, allowing more light in and giving a slightly more modern feel.
Pros: They're big (up to 120ft wide), good value, easy to erect, a classy traditional look and very breathable
Cons: Bigger variations require more people to erect them, so factor that into your costs
Perfect for: Weddings
Recommended Supplier: White Horse Marquees

Stretch tents
Funky shapes in a wide variety of colours characterise stretch tents, which use a special technical fabric that is stretchy but also provides structural stability. The fabric is anchored at its corners and along its sides, and then poles of different lengths are pushed up to create the iconic shapes. There are several manufacturers of these tents and not all use fabrics that are properly water resistant, so it is important to check that the tents you're getting won't let the water in, although this won't be a problem with any Togather suppliers.
Pros: Cool, modern and pretty customisable
Cons: Sloping sides mean internal space can sometimes be restricted
Perfect for: Festival themed weddings and parties
Recommended Supplier: The Stretch Tent Company

Tipis
If you're hosting a festival themed event then tipis are a great choice. They commonly consist of a natural timber structure with a canvas covering and it's these aesthetics along with their customisable and linkable nature that make them an interesting alternative type of structure. They are used widely for weddings, parties and festivals, and increasingly for smaller corporate events.
Pros: Super cool, very customisable
Cons: Due to their shape, things like loos aren't often built in or provided by the supplier itself so you may end up communicating with more suppliers to get the set up you want
Perfect for: Festival weddings, more relaxed and informal events
Recommended Suppliers: Viva La Tipi, White Bison Tipi Hire

Glamping tents
The most common tent you'll find for glamping are bell tents and their variations; lotus bell tents and lotus mahal tents.
A bell tent is perhaps one of the most recognisable tent styles, featuring a central support pole to support the canvas, giving it it's classic shape. The entrance is formed with an A-frame pole and its guy ropes provide stability.
Pros: Luxury accommodation that you can bring to almost any location
Cons: We're not sure there are any!
Perfect for: Festival themed weddings
Recommended Suppliers: Yurts For Life, Portobello Tents

Frame marquees
Frame marquees are made of semi-rigid frames that provide structural stability and are most commonly made from a synthetic fabric. Frames can be made of wood, steel aluminium tubing, or box-section aluminium.
The ones which use box-section aluminium are referred to as Clear Span structures which can be up to 50m in width. They are called Clear Span Marquees as they have no intermediate pole supports resulting in an uninterrupted internal space.
The solid frame found with this type of marquee affords you a wider choice of accessories. Doors, windows, rigid side panels and sophisticated flooring systems can all be installed as a result. If you want a marquee but don't want your guests to feel like they're in a marquee then this is the choice for you. Likewise, this level of sophistication and comfort means that you aren't restricted by the weather making Frame Marquees the best choice for events in harsher conditions.
Pros: They're open, allow a wider choice of accessories and are your best choice in harsher conditions
Cons: They have a metal structure so you'll be paying a bit more for inner lining to cover this up
Perfect for: Larger events and weddings, side extensions for your house and events in the winter
Recommended Suppliers: Perfect Pitch Marquees

Saddlespan tents
Some people describe a Saddlespan tent as looking like a pringle crisp. Made from tensioned PVC and supported by architectural aluminium trussing, these unusual looking tents can be used as a large marquee, stage cover, audience shelter or exhibition venue. They are available in different sizes and can be linked in a variety of ways to create large and interesting structures. Safety issues are paramount, and this type of structure like all other tents requires competent installation. MUTA has created guidance specific to Saddlespan tents which MUTA members are obliged to follow.
Pros: Innovative design, good acoustics, super airy
Cons: They're really just a covering so you may want to go for something with more of a structure to protect guests from the elements
Perfect for: A stage set up at an event, exhibitions, corporate events

Giant structures
A giant structure is really only worth considering for really large events with 100s if not thousands of guests. Generally, these are for the corporate and event industry as opposed to private hire. They are most commonly referred to as large span aluminium frame or tensioned pole tents and are over 25m wide. It's not unusual to find them span up to 40 or 50 metres and as a result, they usually need the aid of a telescopic plant or crane to erect and dismantle them.
Pros: Solid, secure and very professional
Cons: Like multi-deck structures, due to their size, they require a lot of planning to set up
Perfect for: Larger, often more corporate events. We have seen them used at big weddings too
Recommended Suppliers: Key Structures
Multi-Deck structures
Like giant structures, multi-deck structures are usually more at home at large events, and you'll very rarely see or need them for private hire. Multi-deck structures can be either double, triple or quad-level structures. The top floor is of a standard clear span aluminium frame design with the lower floors being constructed from an integral steel upright and horizontal beam system. These are specialised structures and only very few hirers are competent to deliver them safely.
Pros: Their rigidity and solid structure allow you to erect and furnish a space that essentially feels like a building
Cons: They take real planning and logistical thought and require a big team to set up
Perfect for: Large events with thousands of guests
Recommended Suppliers: Key Structures
How big does your marquee have to be?
Your marquee supplier will help find the right sized structure for your event. It's no secret what the contributing factors are though; number of guests, decorations, table sizes, number of chairs needed and other things like the addition of a bar or dancefloor too. Below we've included a table to allow you to make a rough estimate: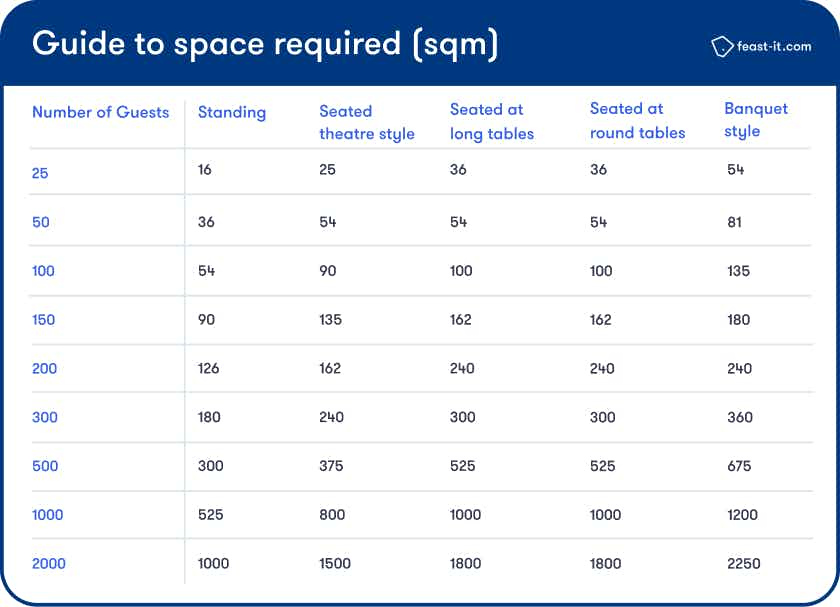 Marquee decoration guide
It's one thing choosing the marquee itself but next come the considerations about how you'll kit it out. A good marquee provider will have decorating options available with their offering, or at least have partners that can provide the following.
Furniture
Tables
Things you'll want to consider are the variety of shapes and sizes. Round tables are often considered more sociable but longer tables will allow you to use long benches as opposed to chairs and perhaps be more efficient with your space. Less about space, but more about aesthetics, you'll also need to consider the style, or even if you want table coverings.
Chairs and benches
A good marquee provider should have various chairs available for hire. Some with seat pads, others without and always a good variety of colours and style. Of course, choosing a decorative chair would render colour and style useless. If you're going for a more festival vibe, then benches might be worth considering.
Bar
If you want a bar but you're on a budget, the best solution is a couple of trestle tables that your marquee supplier should have handy. If you're looking for a more bespoke option, it's probably worth checking out some of our suppliers here.
Floors, Stage & Dancefloor
Floors
Matting laid directly onto the ground with a membrane underneath is the most common and cost-effective option. When well laid, it looks nice too. If you want to push the boat out, you can have a solid floor with or without carpet.
Stage
You'll want to consider a stage for a band, although this isn't essential. Some marquee suppliers will provide this themselves whilst others will partner with stage suppliers and include the cost in their quote.
Dancefloor
Dance floors do take up space and will inevitably add to the cost of the hire. Always consider the space you will need to make for an area to dance but you might be able to make do without a dedicated floor.
Lighting
We could write a whole article on the plethora of lighting available but instead here are some key things worth thinking about.
Consider the complexity of lighting. Do you want to keep it simple or add numerous colours and effects for a little later in the night?
Do you need external lighting, perhaps near guest accommodation, or for parking or for any external features you've hired?
Again, seek the advice of the marquee hirer who will be able to advise on any rigs and lights they have available.
Power
There are 3 main ways to provide a source of power to a marquee. Firstly you can run a cable in from a mains socket if your marquee is close enough to a building. You can also wire into a fuse board if there's a fuse board not too far from the site. And lastly, you can run off a generator which will come in a range of shapes and sizes. If you go for the latter, ask your supplier how loud it is, you don't want it rumbling away during the "I do's".
Heating
Electrical heating is probably best for inside the marquee, you just need to make sure you have enough heaters. Heaters other than electrical ones should be "indirect", i.e. those with an exhaust system, that sit outside the tent and blow warm air in through flame retardant ducting running under the edge of the canvas or through a specially made cut out in the wall.
Toilets
If there are no loos near the marquee a toilet trailer or portaloos may be your best option. Some marquee providers will have these themselves whilst others will partner with loo providers. There are a wide range of styles and sophistication available, so it won't feel like day three of a music festival!
Estimated Costs
The cost of a marquee is based on numerous factors. You have the marquee itself and variable factors such as:
Number of guests

Type of marquee

Size of marquee

Location
And then you have the itemisation within the marquee where you'll have to consider:
Type of flooring

Type and number of chairs and tables

Lighting

Interior decoration

Heating

Loos

Bar

Dance Floor

Staging
With so many variables to estimate, the cost of a marquee is hard to predict, so it's always best to start engaging with a supplier as soon as possible and provide as much detail as possible. We've put together a rough estimation of costs for a clear span and stretch tent marquee, depending on the size of the marquee, number of guests and some basic decoration variations. However expect to be adding at least £1000 after you take into consideration tables, seating, lighting, heating (if needed) decorations, sound and loos.