Why you need a mobile bar at your event
Written by Marie De La Teyssonniere, Tue 3 March 2020
From a winter wonderland wedding to a corporate event in a castle, there's one thing all types of events have in common - drinks!
A mobile bar provides so much more than a drinks service, with a wide range of unique and innovative bars available to hire. Want to enjoy cocktails from a 1970's vintage camper van? How about a glass of prosecco from a Piaggio Ape? From vino vans to gin carts, bar hire suppliers think outside the box to bring a quirky bar to your event or party as a sure-fire way to impress your guests.
There are many reasons why party planners and event organisers should work with a reputable supplier who can deliver the full bar service. Skilled bartenders, artisanal drinks and loads of extras (anyone for an Instagram-worthy giant golden pineapple bar?) will make your event stand head and shoulders above the competition.
We love to hear our clients' party plans and have made it super-easy for you to share your event details with us for practical advice on all aspects of your event, including those all-important drinks.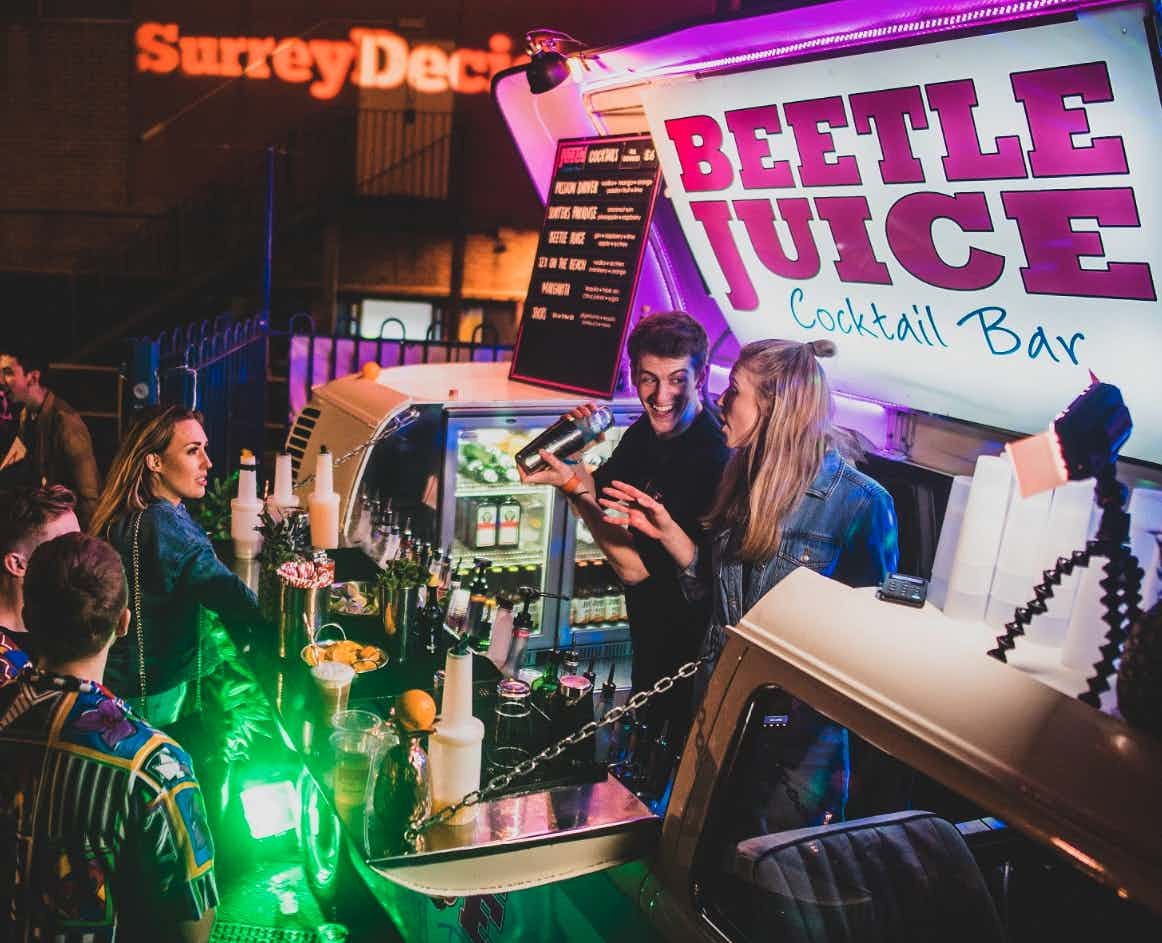 Less stress, more time to enjoy the party
If you've ever tried to organise a bar for a special occasion, you'll know just how stressful it can be to make sure you've got everything covered. You need to consider the quantities of each drink so your bar doesn't run dry, decide where to purchase the drinks and work out how to transport a car boot full of booze to your venue. All these tasks are time-consuming and adds even more 'to-dos' to the party host's list of chores.
By hiring a mobile bar, you can hand over the logistics to the professionals, who will liaise with you to understand your requirements and calculate the quantities needed for your number of guests so there's minimum wastage. Plus, if the drinks duties are in the hands of experienced bartenders, you'll be free to take advantage of the bar whilst mingling with your guests.
Signature drinks for your big day
If you've got a passion for Pina Colada or a lust for Long Island Iced Tea, our mobile bar suppliers will come up trumps with signature drinks for your special event. Mixologists specialise in cocktail creation and will be on hand to offer advice and make helpful suggestions to ensure your drinks are on point, on budget and tailored to your requirements.
Mobile bar suppliers have expert teams who will also work with you to create a wine list to perfectly compliment your food choices. Many providers offer drinks tastings prior to the event for a cheeky preview of what's available and for added peace of mind that your bar will be in safe hands.
Portability and flexibility
One of the main advantages of hiring a mobile bar is that they can be set up in pretty much any location. So, if you've a desire for a birthday bash on the beach or a fairy-tale wedding in a forest, there are a selection of mobile bars for hire to blend perfectly in your chosen setting to provide that 'wow factor'.
It's not all about the alcoholic drinks
There are plenty of events where a bar that serves only non-alcoholic drinks is a requirement – and the days of boring fizzy drinks are thankfully a thing of the past. Here's a few ways to give even the most virtuous drinks the fun factor:
Hiring a milkshake bar for a children's party is an exciting way to make the mini guests feel very cool and grown-up

For corporate or team-building events we find a juice-bar always goes down brilliantly with delegates between seminars and meetings. A fruit-packed smoothie will help to keep motivation high and bring a touch of vitality to your event.

It may be that you're looking for a mobile bar that provides hot drinks at an outdoor event. Pop-up coffee bars deliver a host of lattes, cappuccinos, mochas and espressos to keep your guests feeling warm even in the depths of winter.
We encourage all our drinks suppliers to have a detailed conversation with our clients to understand your event and audience to tailor a range of drinks that cater for your event perfectly.
All the extras are provided…
From ice-and-a-slice to cocktail garnishes, and straws to sparklers, a mobile bar provides those extra special touches and the know-how to use them to make your drinks look (and taste) fabulous.
All our suppliers are hand-picked to ensure your guests are provided with superior service and friendly faces to ensure each and every partygoer has fun at the bar.
Browse our carefully chosen mobile bar suppliers
We've established relationships with the very best drinks suppliers to give boring bars and dreary drinks the heave-ho! Tell us about your event - and we'll deliver a shortlist of mobile bar marvels for you to choose from.