Dry hire wedding venues in London
Written by Sophie Gill, Thu 20 October 2022
Dry hire venues in London come in all shapes and sizes. But one thing they all have in common is that they allow you to unleash your event planning potential and mould the venue into the perfect space.
If being restricted by a pre-made package, theme, or set menu doesn't sound appealing to you, dry hire is the way to go. With this definitive guide you'll have all the info and tips you need to find the perfect venue.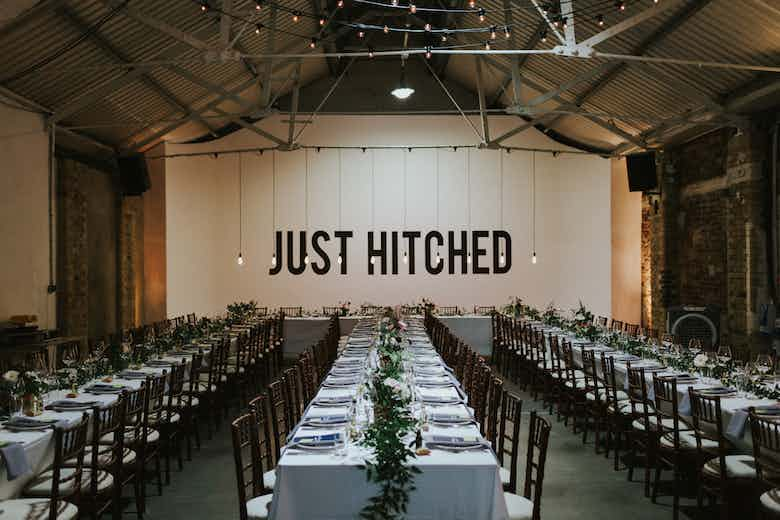 What is dry hire?
The terms dry hire and wet hire may be new to you, so it's essential to know the difference between them before you start looking.
Dry hire means you're just hiring the space with nothing else. The price includes the use of the space you have chosen, but doesn't include no catering, décor, entertainment or any other extras.
Wet hire, often presented as packages, includes not only the venue, but a bar, catering and furniture; it's essentially an all-inclusive deal but often means the venue controls how the event looks and feels, and the suppliers you can use.
Why should I choose a dry hire venue?
Choosing a dry hire venue means you benefit from a blank canvas. It's popular with creative couples who like to do their own thing as it gives you the flexibility and freedom to create the exact wedding you've dreamed of.
With a dry hire venue, you can:
Work with suppliers that you like, trust, who perfectly fit your vision

Do something different and surprise your guests with an event they'll never forget

Have the freedom and flexibility to use the space as you wish (within reason)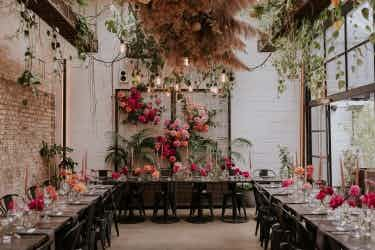 Is dry hire cheaper than wet hire?
Yes and no. It all depends on your venue.
You will initially pay less for a dry hire venue as you are just hiring the space. However, you obviously will need to hire all the other suppliers individually on top of the venue cost. That said, you do have full control over the budget and what you spend on each.
With traditional wet hire venues, sometimes you can benefit from packages which reduce costs overall. However, you are tied to the venue's food and drink options and pre-set costs, with alcohol fixed prices particularly often coming in quite high.
Keeping your dry hire cost-effective
Do your research - You can find venues and suppliers who fit your budget if you look hard enough. Check any reviews and social media pages of any you're thinking of and ask for custom packages or menus that may be cheaper.
Try some DIY- Taking care of some elements of your event yourself, like invitations and place settings, is a great way to save money and leaves more of your budget for catering, entertainment and drinks.
Use a platform like Togather - when you book your supplier through us, you can not only find all the different suppliers under one roof, but you can secure your booking with a deposit starting from just 10%. You can also pay in monthly instalments in the lead-up to your event to spread the cost.
Finding dry hire venues in London
That's where we come in. Our Event Experts at Togather know their venues, it's what we do, and we have some incredibly unique venues in London like Village Underground, The Hackney Co and Pump House Gallery in Battersea Park.
Our team will connect you to the best venues and suppliers that align with your event using our free, specially designed questionnaire. If you need more than just the venue, we can help you source the perfect caterers or street food, marquees, bars, photographers and more!