5 throwback ideas for the ultimate 30th birthday party
Written by Phil Lardi, Fri 29 November 2019
Just because Rachel from Friends freaked out, it doesn't mean you have to. Instead of succumbing to a sense of impending doom, throw a 30th birthday bash that is all about being young and free. From filling party bags with retro sweets, to decorating your venue with bed sheet forts, who said a 30th birthday had to be a grown up affair?
1. 90s Kid Party
Those turning 30 in the next 12 months were lucky enough to have spent most of their youth in the neon-clad 90s, probably dressed in a pair of outrageously patterned leggings. If you're thinking of throwing a 90s themed party, you've been saved by the bell... Welcome your guests to the land of The Fresh Prince of Bel Air and Game Boy Colour with bunting made out of cassettes, inflatable chairs, rainbow slinkys hanging from the ceiling, and of course, glow sticks everywhere. Hire an arcade game like Space Invaders or Pac Man, and fill your party bags with slap bands, ferby keyrings and fruit winders.
Hungry partiers will love Popdogs and their old school van with its neon pink lettering. Their loaded hot dogs are totally mouthwatering with playful names, yet ingenious and sophisticated flavours. Expect high quality, all-natural juicy sausages sandwiched in soft buns, topped with a host of sauces, jams, onions, herbs and spices… Our favourite is the 'Camel Toe', a lamb sausage smothered with chili, garlic and harissa mayonnaise, and garnished with peppery rocket.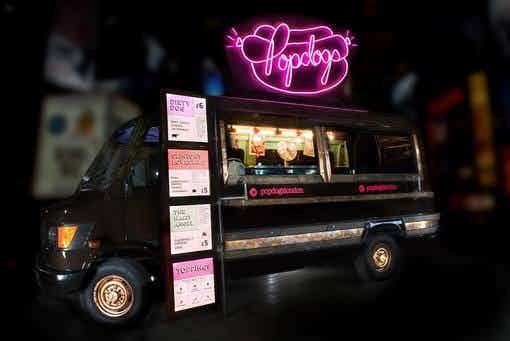 2. Adult Sleepover Party
Instead of spending your 30th birthday being jostled on a sweaty dance floor, why not throw a grown up slumber party - a night of booze, food and games where your guests can knock back cookies with a White Russian and dance around in their pyjamas. How about decorating your venue with bed sheet forts, giant teddy bears, fairy lights and balloons? Far from a snoozy event, you can smash pinatas and play drinking games. Complete your party with a screening of a throwback movie on a projector - from Pulp Fiction to Toy Story, there's plenty of choice for those in their late 20s.
The ultimate food to serve at a sleepover are ice cream sandwiches, beautifully handcrafted by Happy Endings. The ice creams come in a range of mind-blowing flavours including blood orange Negroni and vanilla marshmallow, and can be tailor-made for your event.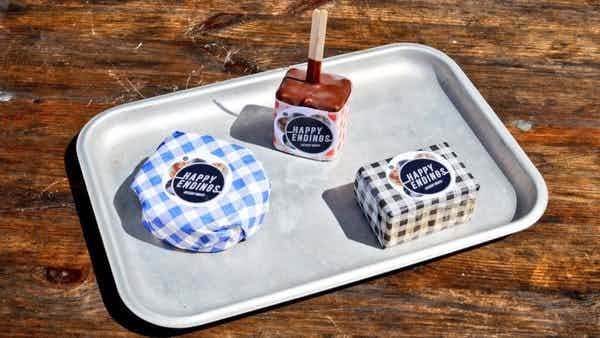 Surprise your guests in the early hours with a visit from Le Swine - sublime bacon butties served from a retro 1960s ambulance, that'll fuel everyone for a couple more hours of celebration.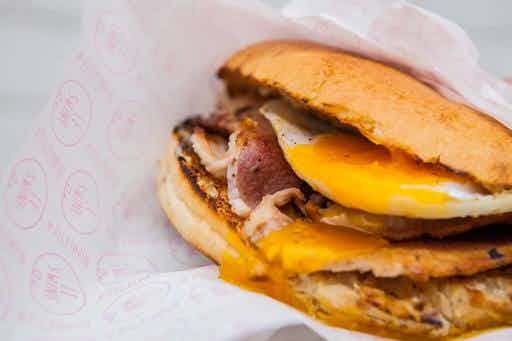 3. Camping Party
What better way for the outdoorsy type to celebrate their 30th birthday, than with a creative camping party? Whether you have hired a venue with outdoor space, or you're hosting in your own garden, pray for sun and welcome your guests to your very own campsite. Decorate the space with ice buckets, blanket-covered logs, fairy lights strung from tree to tree, lanterns, and a roaring fire pit to enjoy under the stars. Entertain your guests with apple bobbing, water balloons and a scavenger hunt during the day and marshmallow toasting after dark.
Pasta is the best way to keep campers happy, so why not get Pasta e Basta along to your party to warm and fill your guests with delicious fresh fare and rich intricate flavours, such as pork sausage and fennel, and aubergine with smoked cheese.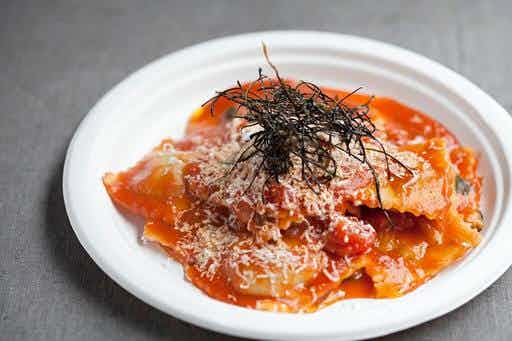 As revellers crawl bleary-eyed from their tents in the morning, inevitably hungover, have them greeted by Original Fry Up Material, who'll serve up breakfast muffins brimming with smoky bacon, Eggs Royale doused in runny yolk, and many more offerings from their quirky diner-style truck.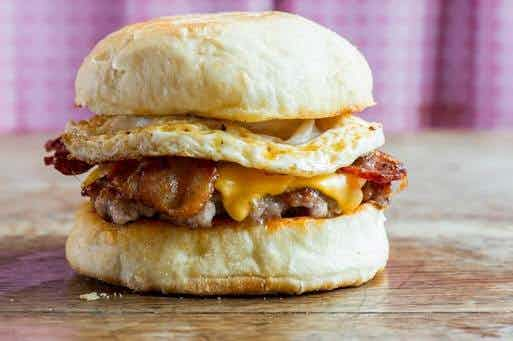 4. Alice in Wonderland
Whacky and whimsical, an Alice in Wonderland themed party is a tremendous way to combine a sense of debauchery and nostalgia. Your guests will think your party curiouser and curiouser as they pass giant playing cards, inflatable flamingos, and mischievous signposting, whilst drinking out of oversized tea cups. Why not hire a balloon modeller to make Mad Hatter headwear and challenge your guests to pin the smile on the Cheshire Cat, play a giant game of chess, or try their hand at croquet once they've had a few.
Some wonderful accompaniments are the delicate and delicious crepes and galettes from L'Amuse Bouche, who make both sweet and savoury options using ingredients of the highest quality. From dripping salted butter and oozing caramel, to sophisticated red onion chutney, goats cheese and spinach, there is something for every taste and they look lovely too!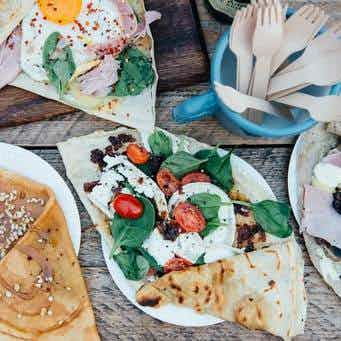 5. Retro Games Garden Party
Summer babies looking to celebrate outdoors with a little touch of class should look no further than a retro games garden party. Looking through a balloon archway reveals sofas on the grass, dainty bunting, blossoming flower arrangements, gingham table cloths, pastel lanterns and retro ribbons tied to the trees. Entertain your guests with sack races, pin the tail on the donkey, boules, and much more with various games stations dotted around. A personalised photo booth with summery props and little paper bags of pear drops and dolly mixture tied up with string are a charming addition.
Juicy strawberries are the quintessential way to celebrate the British summer, so why not book The Artisan Strawberry Van, an elegant and scrumptious choice for your party. Their spectacularly shiny van has pink neon lettering and opens to reveal shelf upon shelf of fabulously fresh strawberries, and doubles up as a champagne bar! Enjoy smoothies, alcoholic strawberry-based cocktails, and strawberries topped with a number of tasty toppings.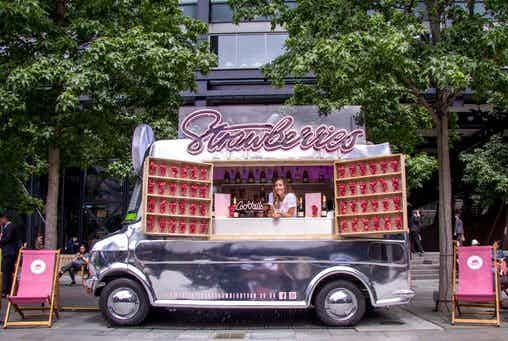 Here are just a few of the great ways to celebrate your 30th birthday in a way that stands out from the crowd and to remind you and your guests that 30 is just the start of the prime of your life! Start organising early to make sure that your event goes down in history, but leave the stress of finding the perfect caterer to us - enquire online to get the ball rolling, or read more about our party catering here.