Grill Power: 8 female street food innovators you should know about
Written by Nat Desborough, Fri 8 March 2019
It's no secret that the food space is male-dominated, with the Office of National Statistics reporting last year that women only make up 17% of UK chefs - but that's not to say there aren't women out there representing and absolutely killing the game. What better day to celebrate some of the best in biz than on International Women's Day?
We caught up with 8 of our industry-leading female chefs who are shaking up the food and drink scene. From heritage to corporate burnout and a general obsession for food, we wanted to find out more about the women behind the brands. What's the inspo for their food? What advice do these innovative entrepreneurs have for other women looking to break into the street food space? We'll tell ya...
Coconut Chilli: Navina Bartlett
'I was inspired during a trip to my aunt's coffee estate in Coorg, Southern India, which lies high up in the Western Ghat mountains. After spending many a summer there as a child, I fell in love with the local cuisine, scents, flavours… and the sheer abundance of exotic ingredients growing all around. Amongst the coffee bushes, I discovered coconuts, bamboo, pumpkin, cardamom, oranges and chilli… and the idea of Coconut Chilli was born.'
You can almost smell those heady Indian aromas giving you a warm hug can't you? Navina paints a bloody good picture with her words, and her food - well - it's out of this world. Having been instrumental in setting up the StrEAT Food Collective, in Bristol in 2011, Navina worked with like-minded, hard-working independent street food suppliers and it gave her an idea. It was following this she combined her business acumen with her gorgeous food memories and luckily for us, the award-winning Coconut Chilli came to life in 2014!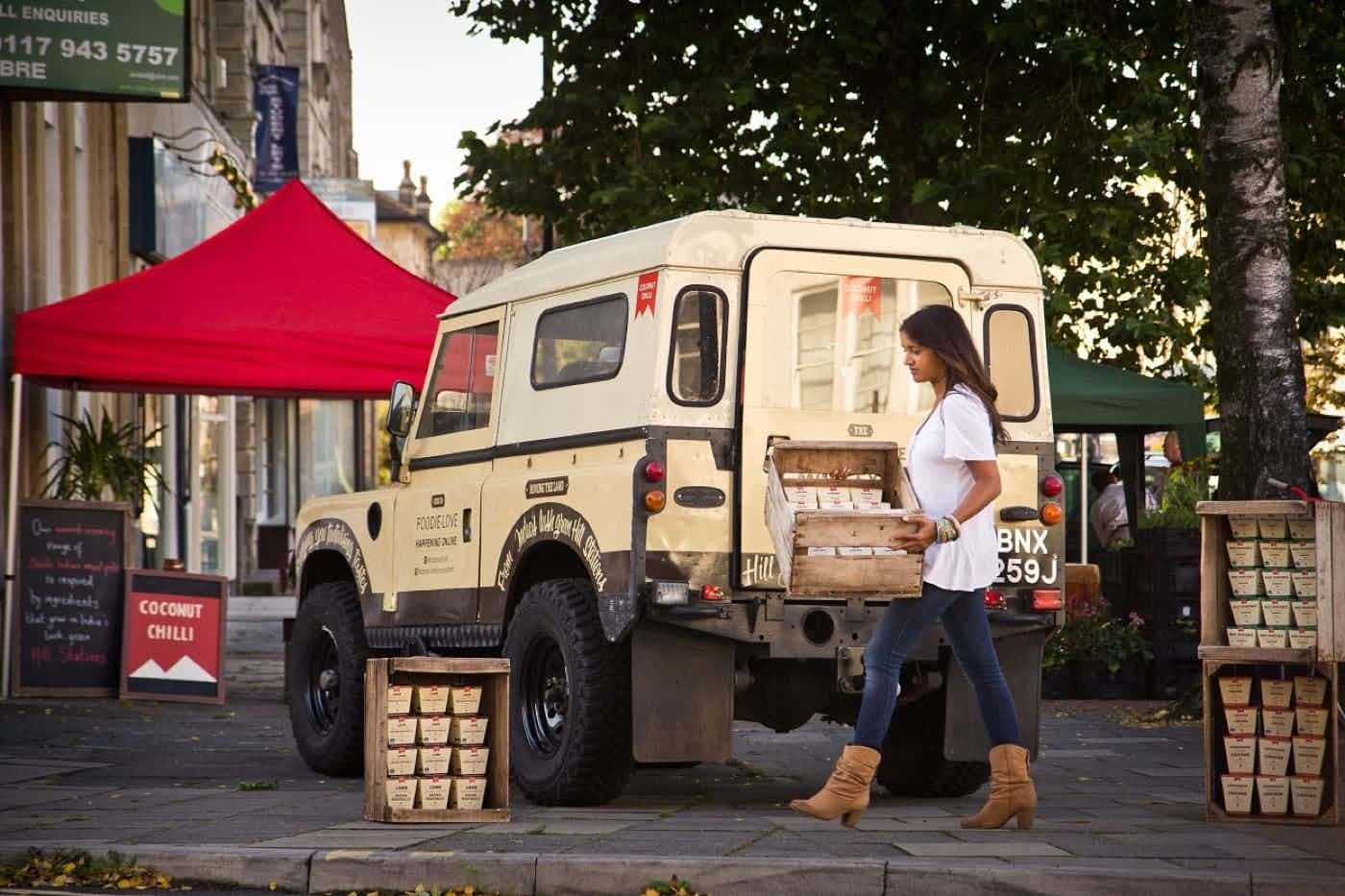 Teaming up with the incredibly talented KK Anand, Navina serves up Coconut Chilli's award-winning Southern Indian cuisine for corporate events, universities, weddings, food festivals and private parties.
'Our curries are lighter and fresher and are perfect bowl food. And our quick service is always a winner – especially at busy, large events. Coconut Chilli has carved a niche by serving our range of gourmet curries from our vintage 1972 Land Rover that really helps tell the gorgeous story behind our brand.'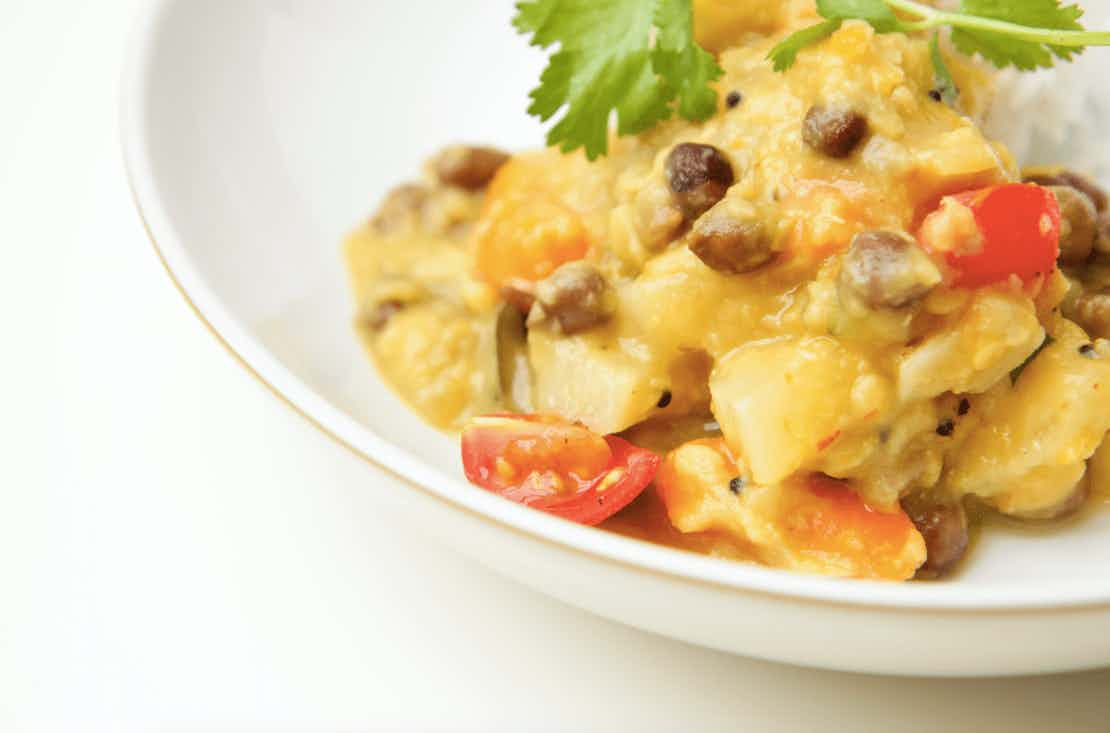 For menu ideas, more about Coconut Chilli and how to book this innovative, award-winning brand, click HERE. Here are Navina's parting words of wisdom for any of you budding street food entrepreneurs out there:
'Try not to go it alone. Catering is a tough gig – it's physical work and long hours but once you've got a team it gets easier. My core team is so important – not only because they are very experienced, but because they have great banter too! And don't forget to join NCASS.'
Trailer Trash: Zoe Lucock & Jessica Buckley
Hold on to your hats, Trailer Trash brings double the grill power with Zoe and Jess at the helm of this fun, naughty brand which NEVER feels guilty about food! It's a refreshing message for those of us who are forever buying the disappointing wet salad option in the meal deal at Sainsbo's and are left starving by 3PM - these two best friends are out to send the message that eating and sharing food is GOOD for you so you should never feel guilty about enjoying it:
'Eating and drinking are two of life's pleasures. And if done right with consciously sourced quality ingredients, with time and energy invested into making, cooking and eating - then there really is nothing to feel bad about! Eating is like exercise- it releases endorphins and nourishes the soul…'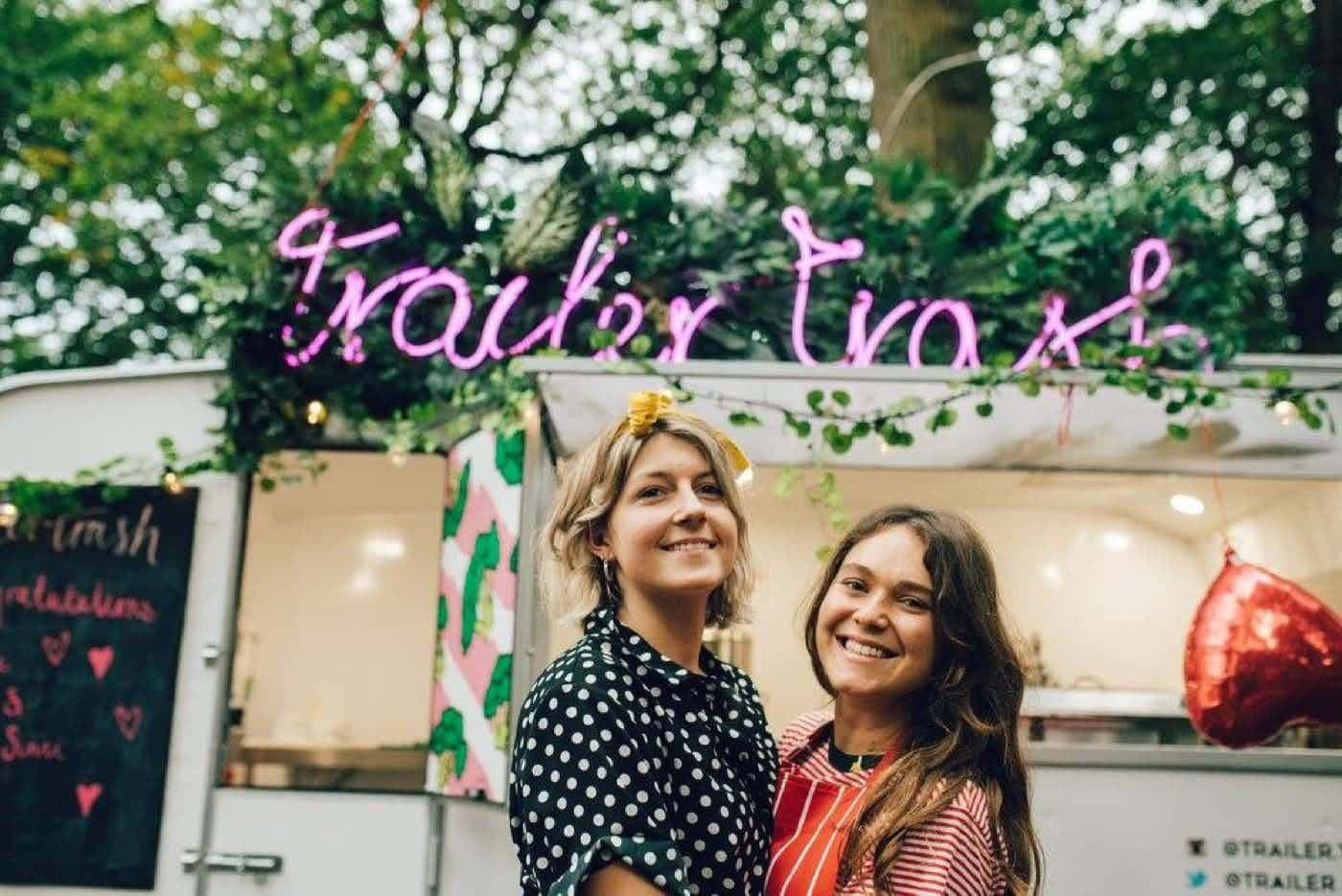 Trailer Trash is a unique addition to any event because they love to get involved in every element of your shin-dig to make it an absolute hit. From past events, we know these guys love to chat to clients about what they love eating, their food memories as well as their favourite places to make sure their menu you can be as special, tailored and personal as it can be.
'We think this is especially important for Weddings. For example, back in summer we made Bagel Burgers for a couple who would always pop in to Brick Lane Bagels when they first met! It was really lovely to see them enjoying something that meant so much to them on their big day! We love putting the Trailer (and ourselves!) in fancy-dress to work with themed parties & have even had stamps made to personalise our chip-scoops when working with clients/other brands.'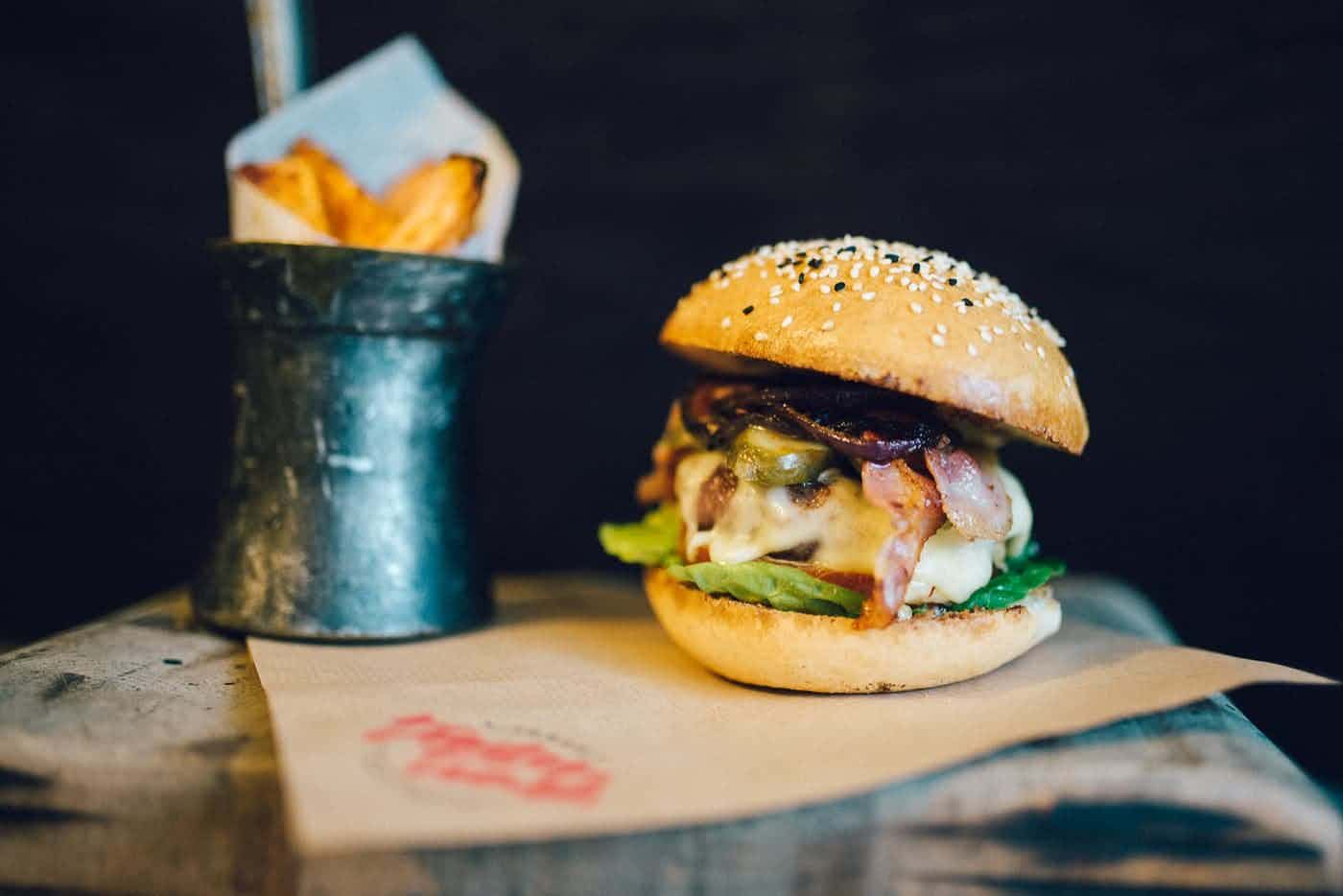 Together, homies-turned-business-partners Jess and Zoe have converted their tacky 1970's caravan into a towable good time! No-fuss pull-up party food at its best, their menu will typically include BIG BAD Burgers with pickle and beer Relish and Spicy Jerk Chicken Burgers with rainbow slaw! The advice from these top gals?
'Be a do-er. Always DO. Say yes to things. Experience is a quick education and you soon figure out what works and what doesn't. And EAT EVERYTHING. The remedy for both early mornings and late nights is FOOD.' BOOK THEM HERE
Happy Endings: Terri Mercieca
Another gal with a sweet tooth is the ice cream queen, Terri Mercieca. Frustrated with the high price tag on fine-dining style desserts, Terri decided it was about time that more people had access to that quality and calibre of food at an affordable cost with a naughty twist. Her brand was built around a concept of challenging norms and the status quo, Happy Endings is set upon a sturdy foundation of only the best quality in every respect - from the food, the service and the relationships along the way.
'I'm trying to create a business that is fun, walks its talk when it comes to caring for our supply chain and the ingredients we use, how we treat our staff and the people we engage with daily. Making sure its a positive, inclusive and caring vibe and making food that stops you in your tracks.'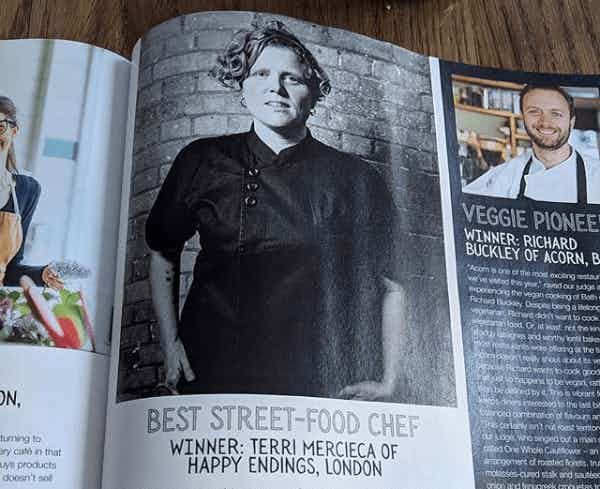 Terri's team make ice cream sandwiches by hand with unique, eye-popping (and often boozy!) flavour combinations. Everything is handmade with oodles of passion and acres of enthusiasm while ingredients are meticulously sourced; they partner with companies who share the Happy Endings ethos for making the world a little better though delicious food.
'I want our desserts to give people a fun and delicious moment to themselves, to feel too good to think about anything else. You're opening that packet of joy, and what you're getting along with those dreamy creamy flavours and textures is a whole lot of love and care for you, our supply chain and the environment.'
YUM. You just have to try the Negroni sandwich, we've never tried anything like it before and it's sure to cause a stir at your event!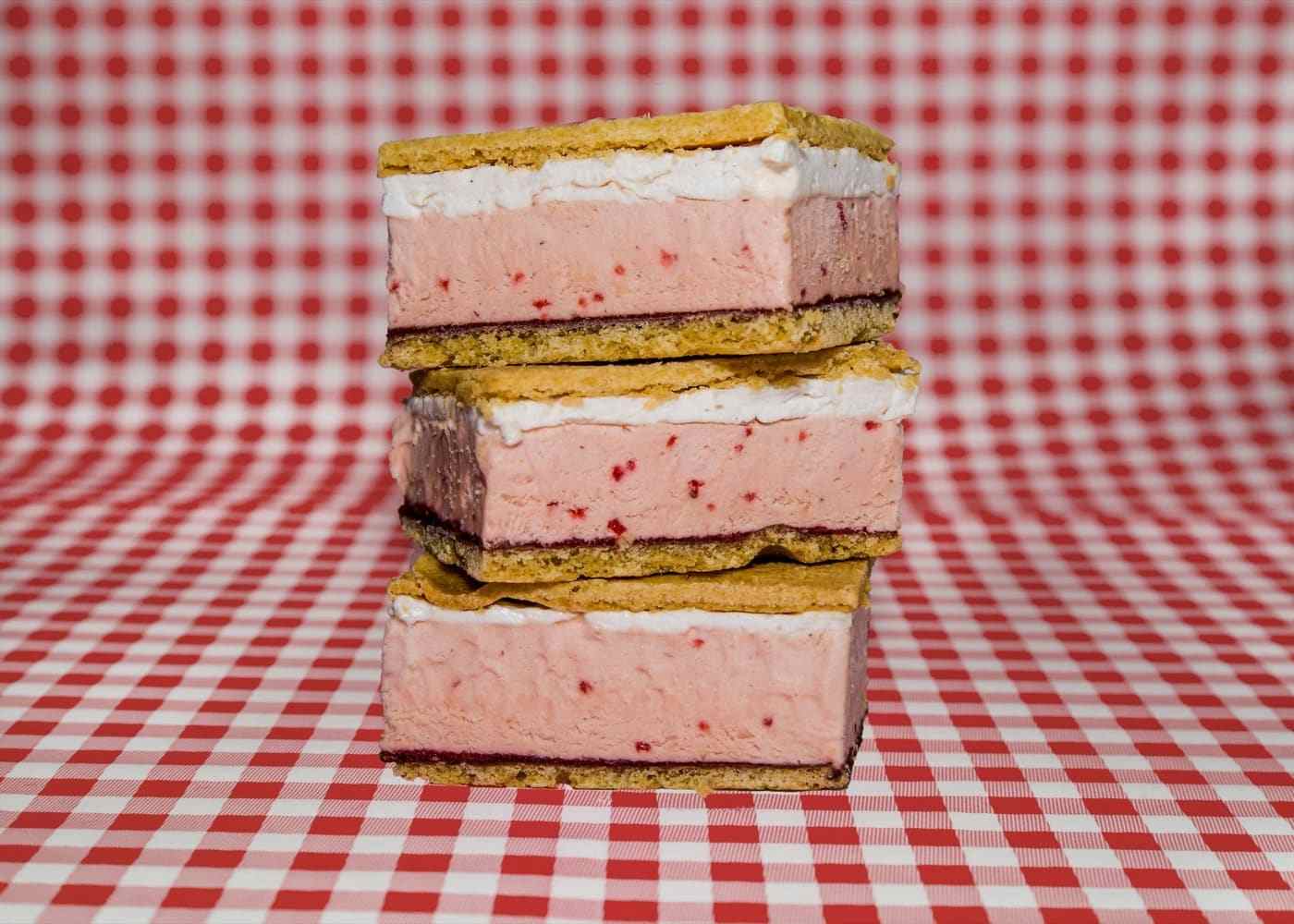 Summer's fast approaching - if you know what's good for you and your guests, get Terri booked in for the Great British Summer Time HERE.
Sweet Nothing Bakehouse: Beth Cardy
'Well frankly I love cake and I am a fan of sweet things in general actually.'
Beth left us under no illusions as to why she founded Sweet Nothing Bake House - she just looooove da cake! Beth told us how she moved to London and became obsessed with the street food and mobile bar movement - having baked as a young tot with her Mum, she just couldn't resist getting involved. With home-baking as inspo for the brand, Beth puts a strong focus of spreading love and warmth with her products:
'Sweet Nothing' refers to the exchanging of words of affection by loved ones. Everyone likes to know that someone is thinking about them, and even more heart-warming is receiving a delicate sweet treat coupled with a loving message. We want to offer people a way to demonstrate their affection to whoever is important in their life, even if they might not know how to say it.'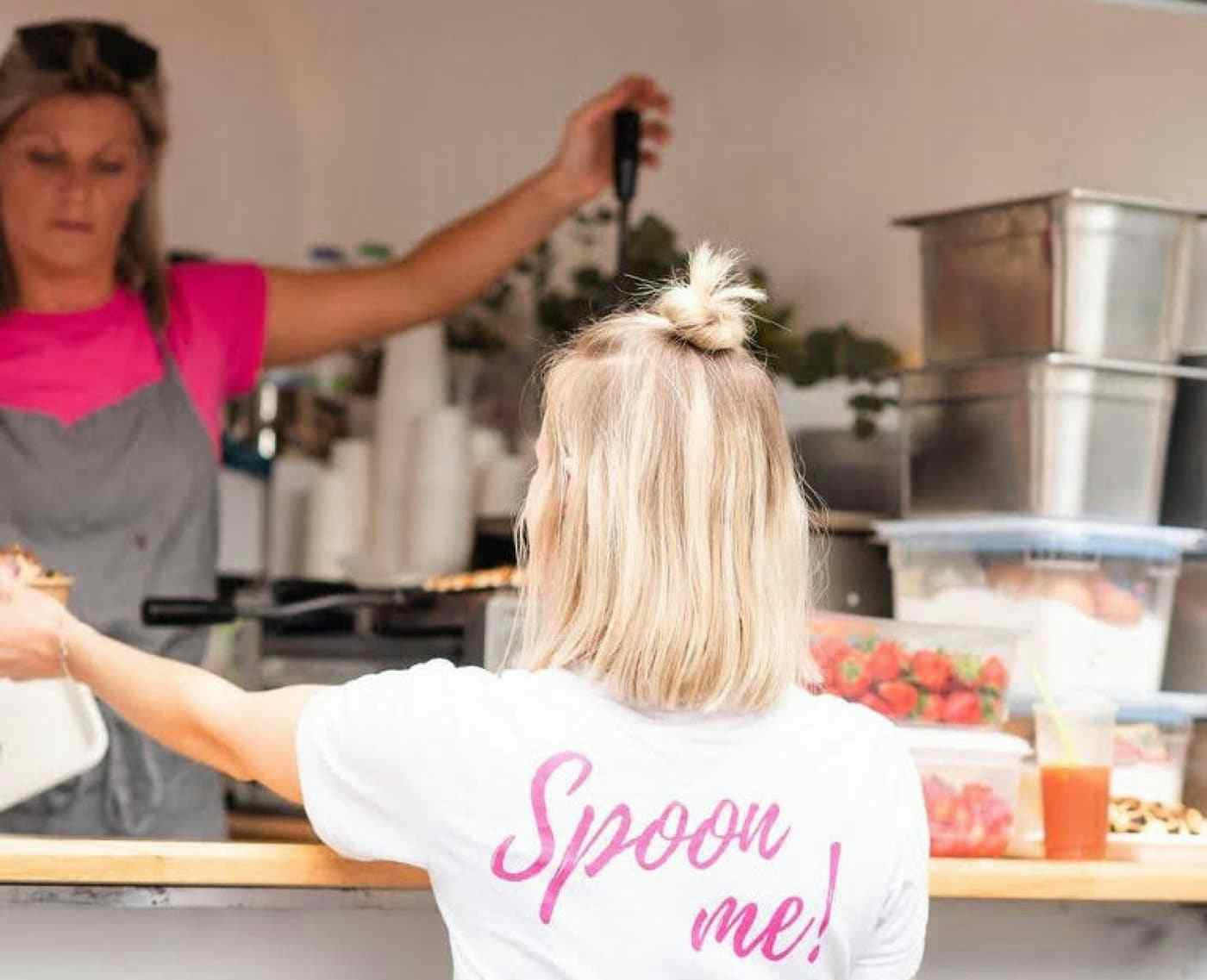 Sounds absolutely dreamy doesn't it, and I know a few boyfriends who could score a few brownie points (excuse the pun) by saying sorry with one of Beth's bakes. Sweet Nothing love to experiment and Beth is happy to work with you on your event menu - her baking skills mean that almost anything is possible and she can tailor her delish dishes to you. Pretty hand at baking yourself and fancy putting your KitchenAid to commercial use? Listen up:
'Go with your gut and if the opportunity comes along, grab it with both hands. Follow your passion and don't look back. Life is far too short to be unhappy, and too short to worry about whether or not you should have that second slice of cake.'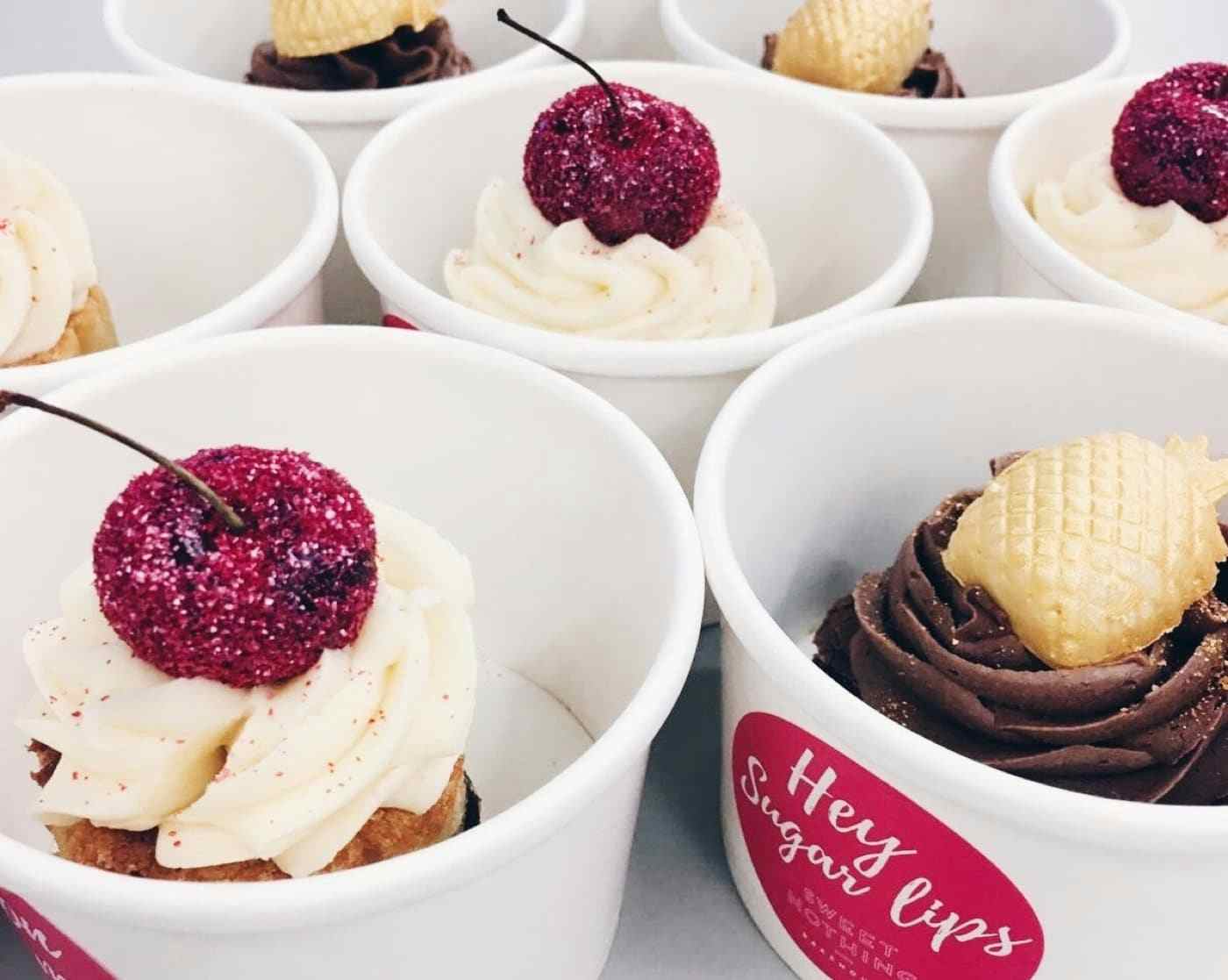 You can view a sample menu, more pictures and find out how to book Sweet Nothing Bakehouse HERE.
Christabel's: Christabel Beeson
Self-proclaimed and much-loved party prin Christabel loved a cocktail and a dance so much she decided to do it full time. Having lived in Copenhagen and worked at the notable Noma, Christabel told us she was completely inspired by their imagination in the kitchen and needed to get in on the action. As soon as she hit home turf, she created Christabel's - a colourful brand which places a huge emphasis on the fun factor and is the perfect party centrepiece in any setting.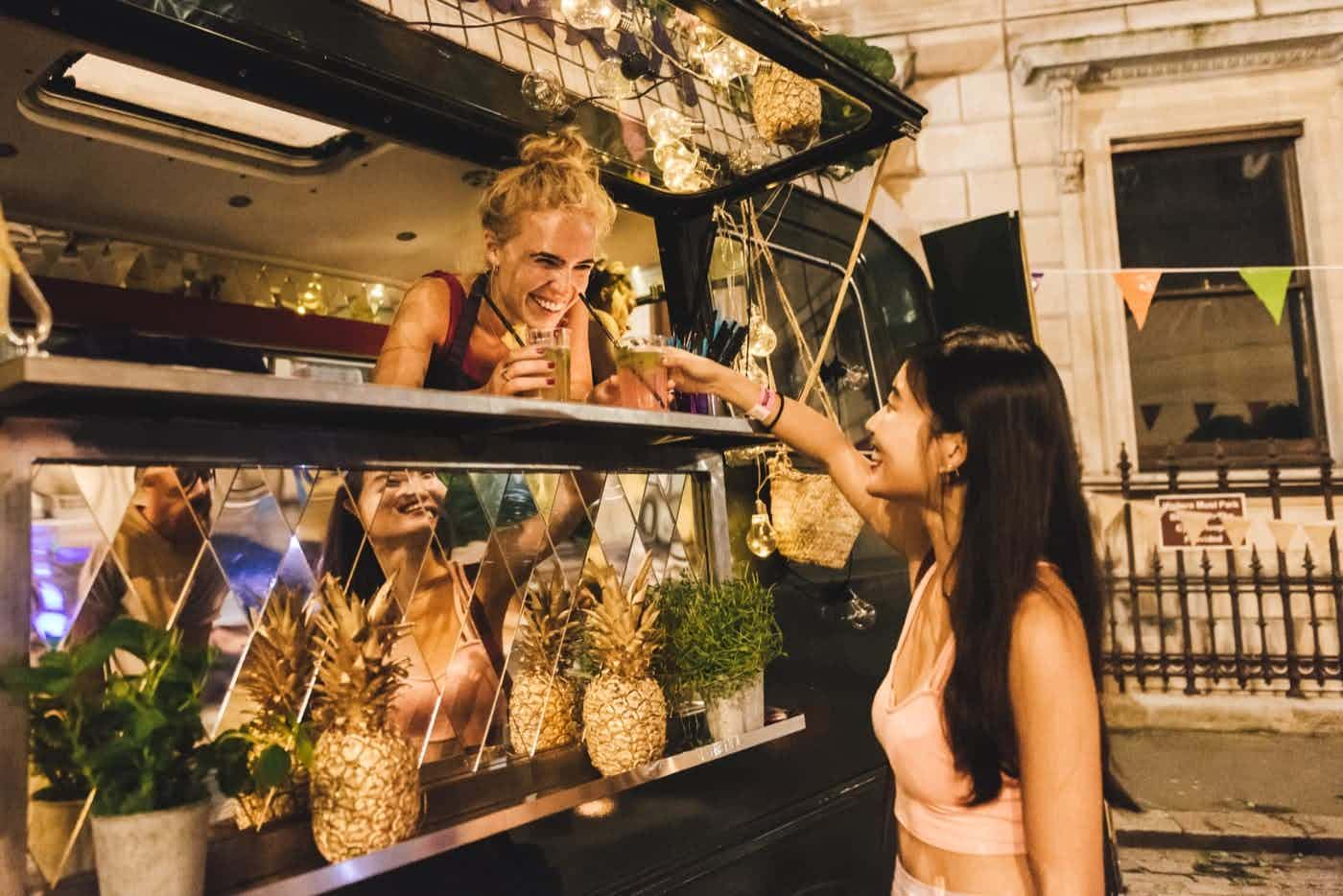 'We designed our cocktail bars to be something that would bring a 'WOW' factor to parties and events, something a bit different from the average bar set up, something eye-catching. Similarly, we place a huge emphasis on our cocktails being interestingly unique and beautifully presented.'
Christabel is the proud owner of Ruby, Betty and Shirley, three fantastic mobile cocktail bars. Ruby's a revamped 1980s ambulance whilst Ruby is a gorge fairy-lit affair flowers trellises and foliage to boot - she produces delicious seasonal cocktails which look and taste sensational. Botanical Betty, has two inbuilt herb gardens and a harlequin mirrored front - the most fabulously extra party bus you've ever seen. Want to get the party started? Get booking the OG party-bringer HERE!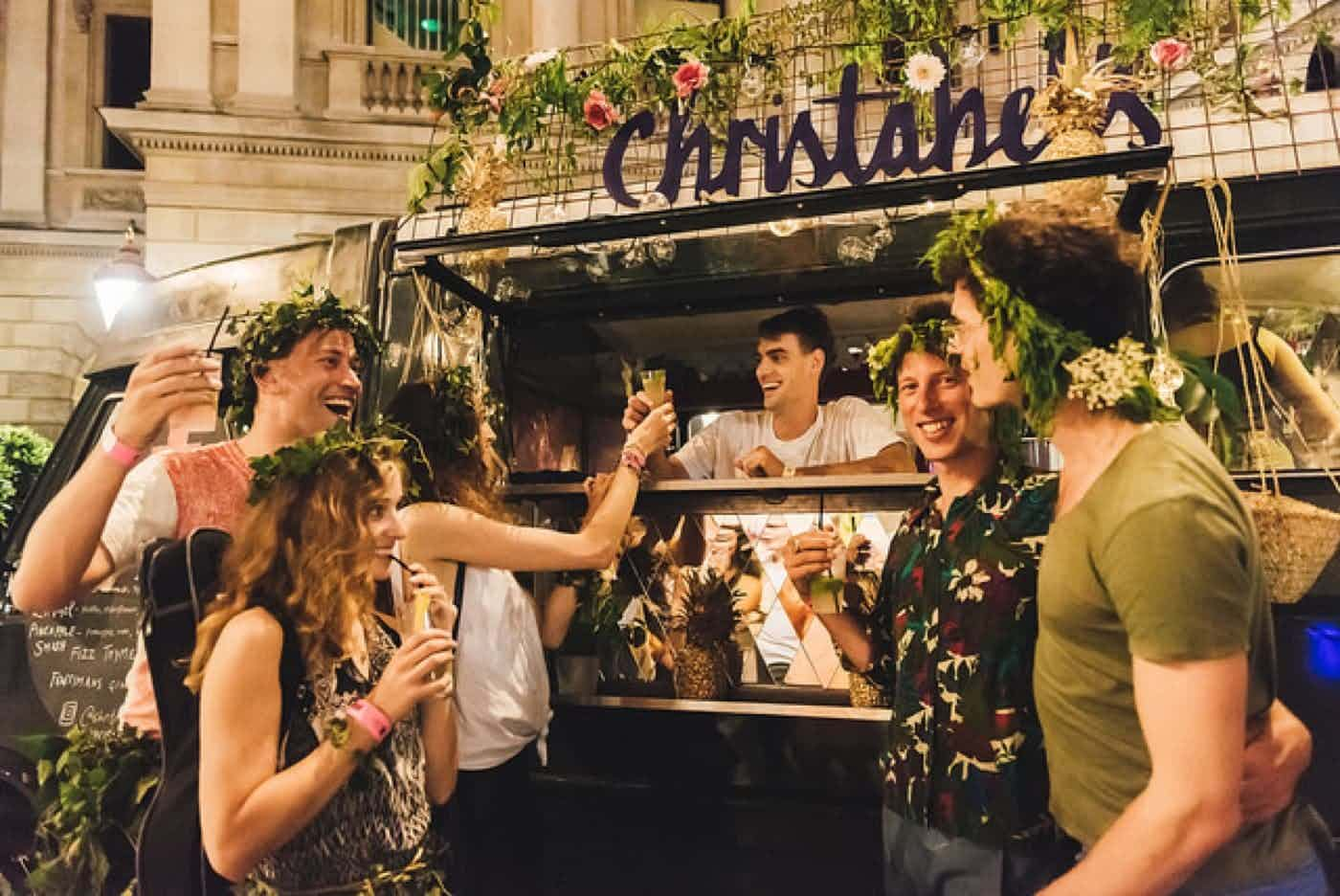 Hola Guacamole: Margarita Garcia
Hola! Sizzling señorita Margarita Garcia is the brains behind one of London's very best, and certainly most authentic, Mexican street food suppliers, Hola Guacamole! Tacos, burritos, quesadillas - you name it, they smash it. Pasión - as Margarita quips - has driven everything from her menu, the brand message and even the truck itself!
'Since I can remember, I've always been passionate about making food and being around the kitchen. Latin cuisine inspires my creativity and my passion led me to start my own business which has forever been a dream of mine!'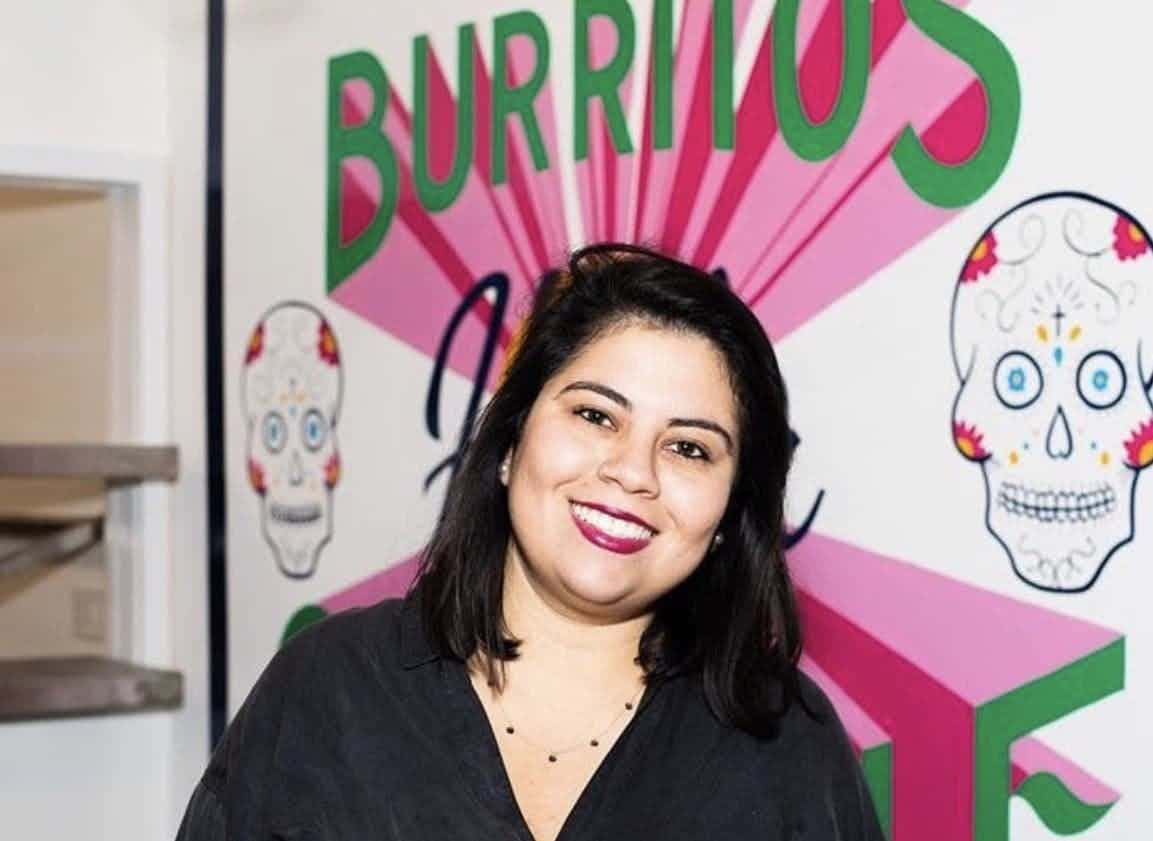 Margarita piles huge amounts of pride into her dishes and the provenance of the ingredients that go into them, with all the meat and vegetables locally sourced and even imported from Mexico where possible. Think grilled chicken, tender steak or pork pibil with black beans and a fresh, zingy salsa on the side. The amazing food is served out of a gorgeous vintage Citroen truck complete with a 'Day of the Dead' themed paint job - we know, BAD ASS.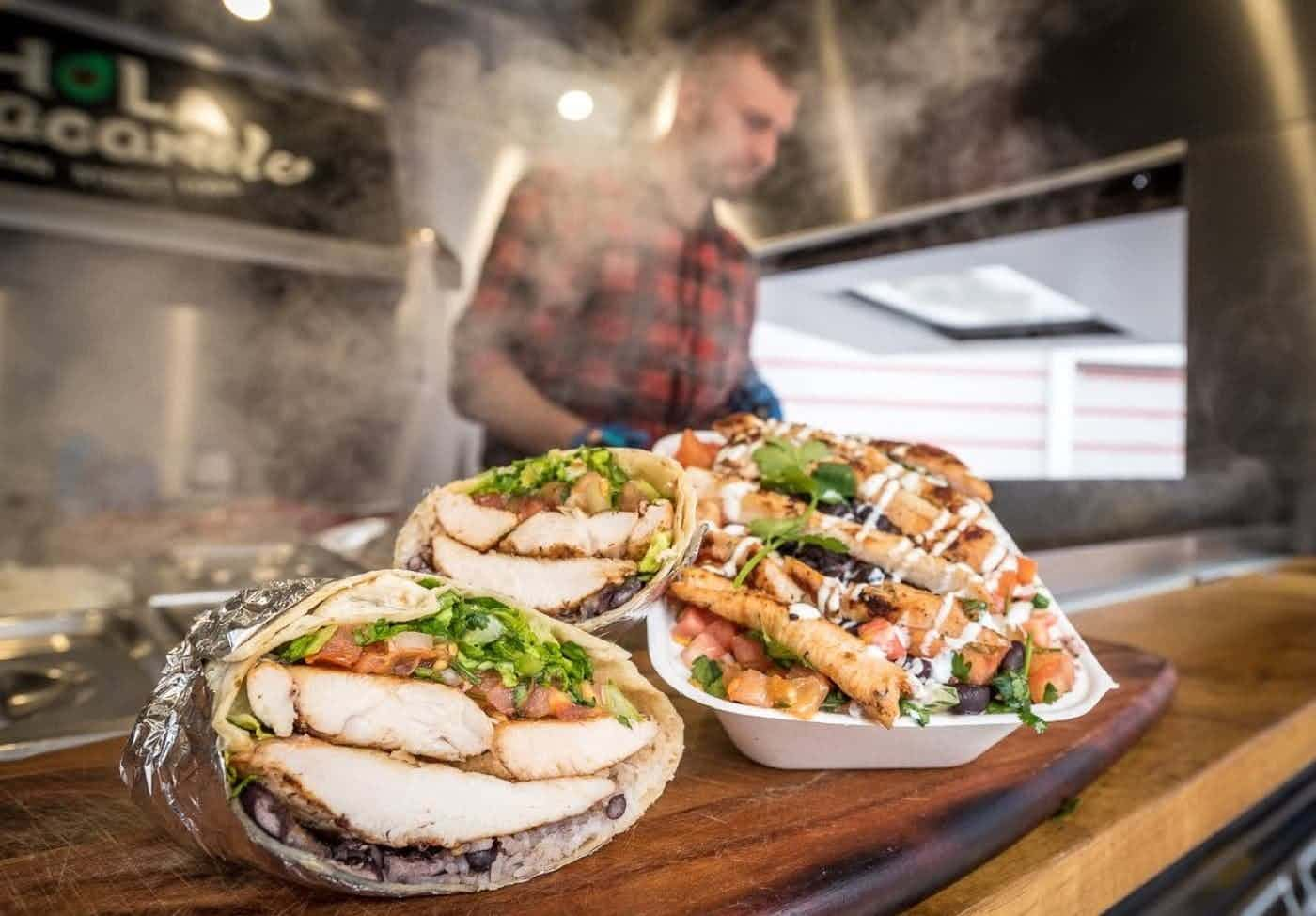 Find everything you need to know about Hola Guacamole and how to book them HERE.
Naughty Roti: Rebecca Dean
With a nod to her heritage, half-Indian Rebecca is on a rooftop shouting mission to dispel the myth that curries are always unhealthy with Naughty Roti - they can be TASTY and HEALTHY, got it?
'Growing up in the UK, the food we ate at home was the only real connection I have with being half Indian. The curries my mum makes are cooked from scratch using fresh spices and ingredients, and very different to the Indian food I came across in restaurants. I wanted to introduce a healthier (minimal oil, no ghee/cream) Indian food and make it a competitive lunchtime option by putting in a burrito form. Everyone wants curry to be a bit naughty and as the food is actually quite healthy the name Naughty Roti was decided upon. I wanted the brand to be bold and authentic, scruffy but charming!'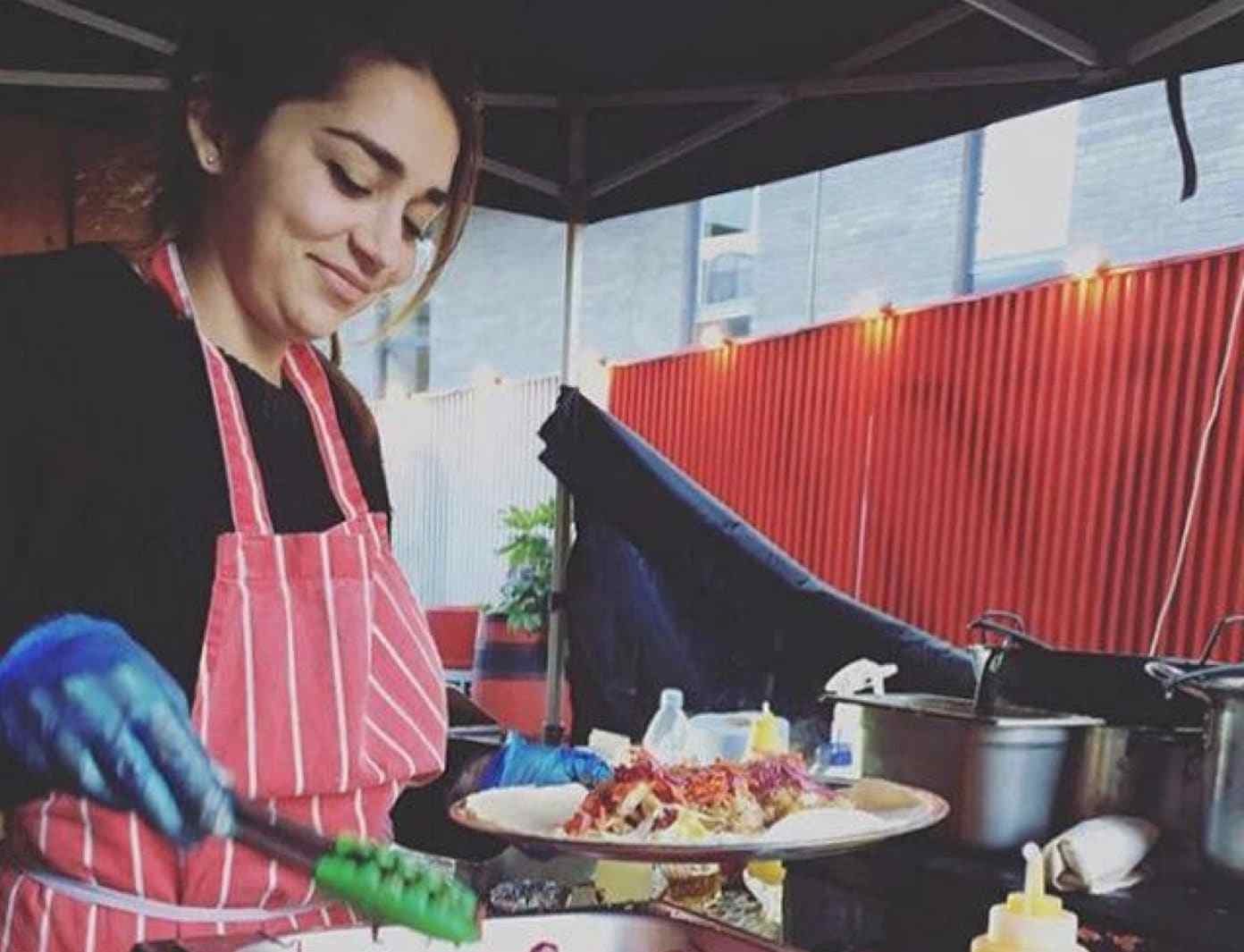 Roti is the ideal party food, easy to eat with a drink in hand, no cutlery needed and no mess to clear up! Plus you don't want to miss out on Rebecca's roti - her recipes are passed down from her Grandmother and trust us - you can taste the wisdom, knowledge and history in every bite. The options for the wraps are chicken curry, lamb and a delicious dal and edamame wrap that will leave any vegetarians beyond satisfied. Result!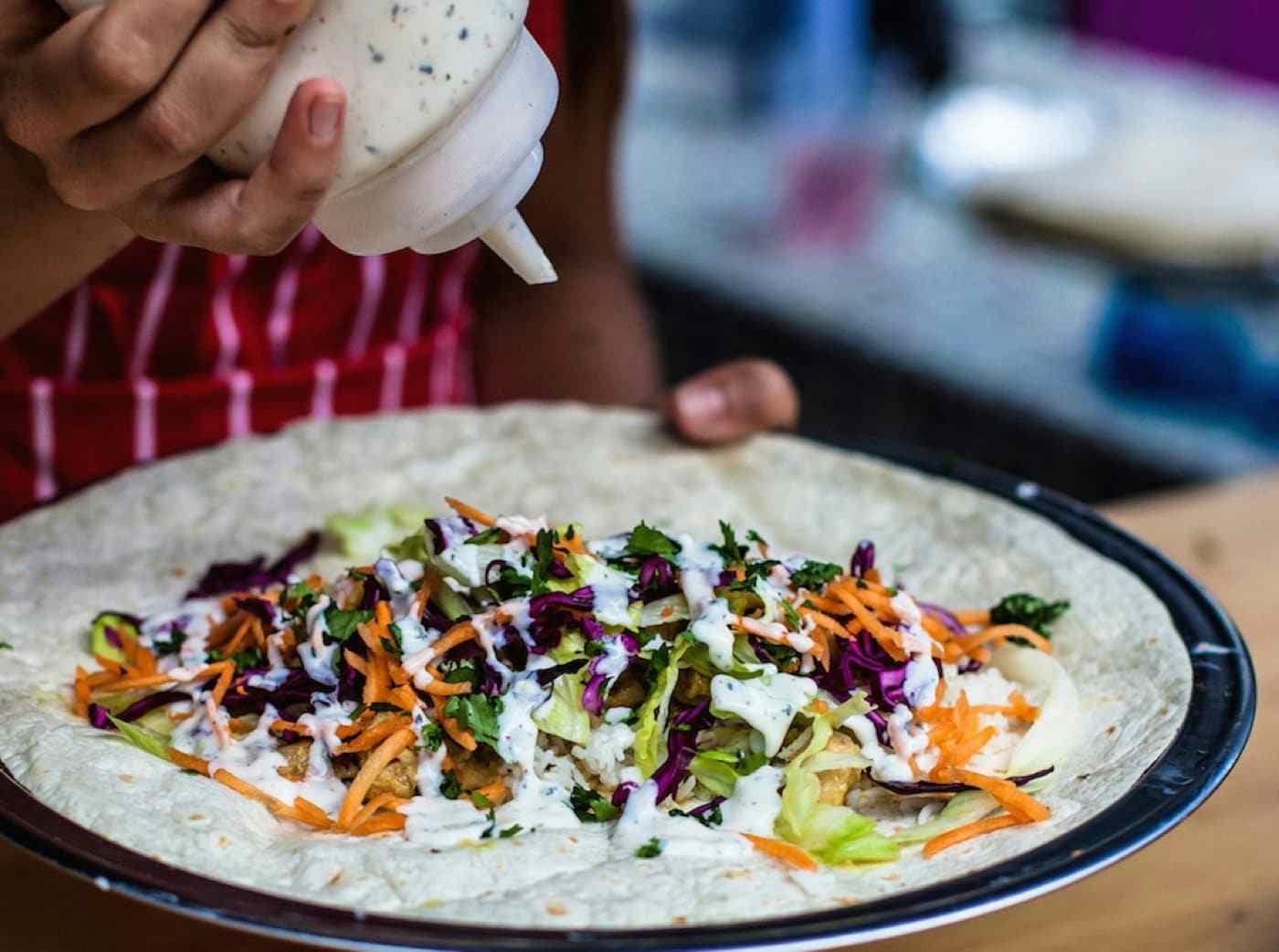 Finally, we asked Rebecca if she had any advice she could share from her experience to others who have been inspired by her brand's journey:
'It might be obvious but understand as much about the industry as you can and, if possible, work for other people (ideally a few) who already do what you want to do. This experience will help you fully understand what you're getting into. Ask for help - you can't do everything. Whether it's help with accounting, social media, food prep etc. Listen to feedback.. Mistakes are going to happen... Have fun....It's an emotional rollercoaster!'
You can find out more about Naughty Roti HERE.
A Pie Party: Claire Connor
Not one to believe 'food is just fuel', Claire founded A Pie Party after the corporate world had stopped ticking her boxes. With the 'mmm' and 'ahhhh' assurances of friends and family as the only form of chef training she needed, Claire decided life was too short to not do what you love and spotted a gap in the street food baked goods market.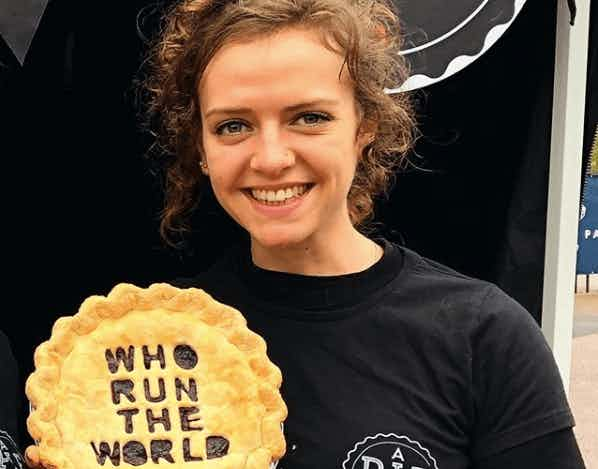 'So many baking businesses have a very twee image and I wanted to create a business which had a little more attitude. We aren't about pastel colours and delicate little pastries - we create big, bold desserts which are proper indulgent!'
A Pie Party is a sweet pie business serving up the all-American classic in both traditional and creative flavours - the only street food supplier out there who serves sweet pie by the slice we'll have you know. These super decadent and rather sexy-looking pies are creative and unique - with flavours like Biscoff Brownie and Blueberry Crumble, you'll be all Oliver Twist at their market stall begging for a second serving. Passion and a zest for life is at the heart of Claire's brand and sprinkled over the pies too and you can't help but have fun when A Pie Party is round. Claire explained to us that it's this passion which will carry you through if you were considering dipping your toes into the industry:
'Don't be intimidated! So many people in this industry aren't trained chefs (including me!) but have built great food businesses out of pure passion. Focus on making your products the best they can be and you'll have a business to be proud of!'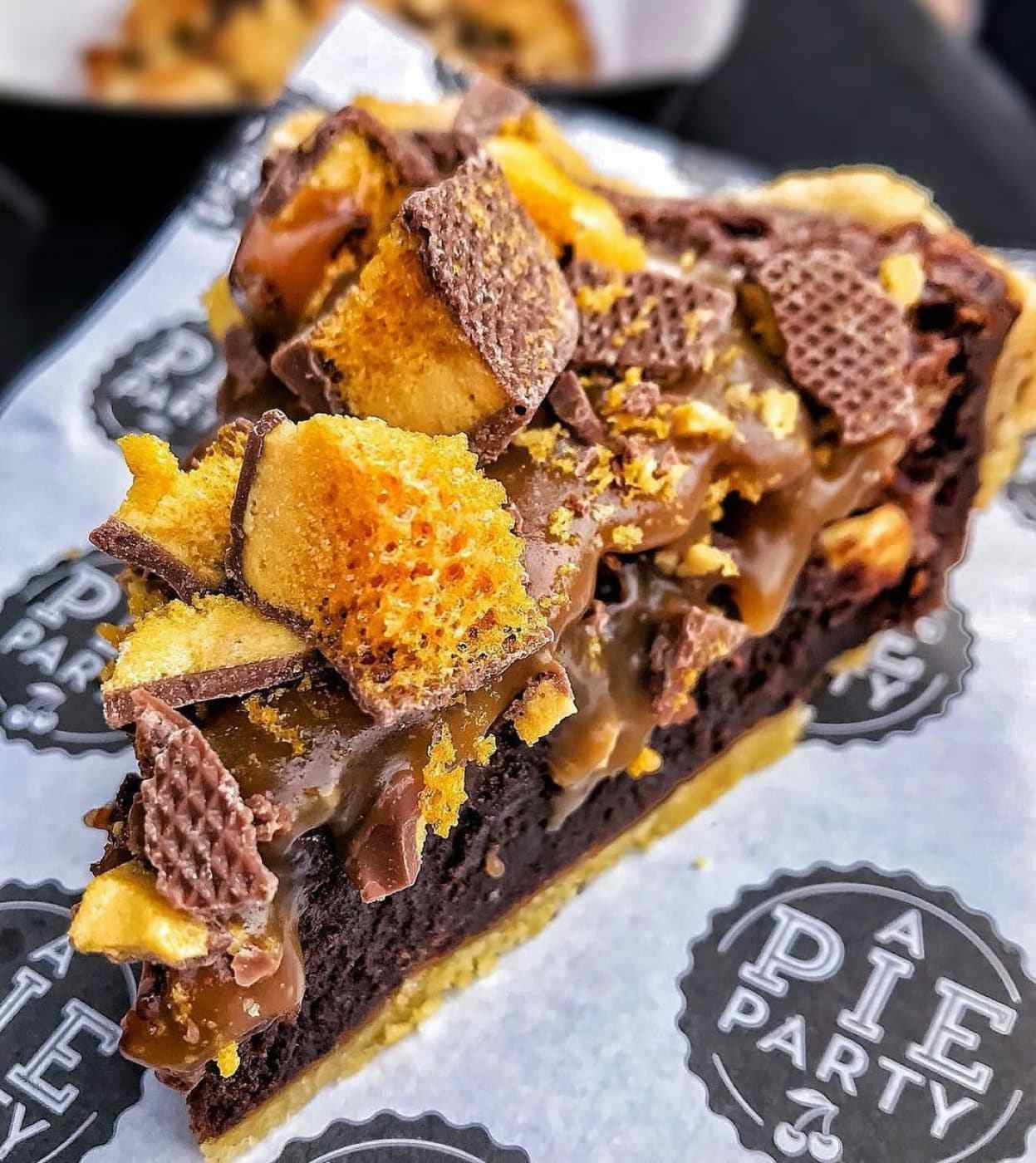 Get your Pie Party started HERE.