How to include your dog in your wedding
Written by Melanie Griffiths, Thu 22 September 2022
Hands up if you prefer dogs to people. We're joking, but not really. In the UK, people love their dogs and so not including them on their wedding day is out of the question.
In recent years there's been a rise in the number of couples including their dogs in their wedding. Some just like their dog to be there for a few photos - others get them involved as ring bearers or even to accompany them down the aisle.
If your wedding wouldn't be the same without your four-legged BFF, here are the best ways to include your dog in your wedding.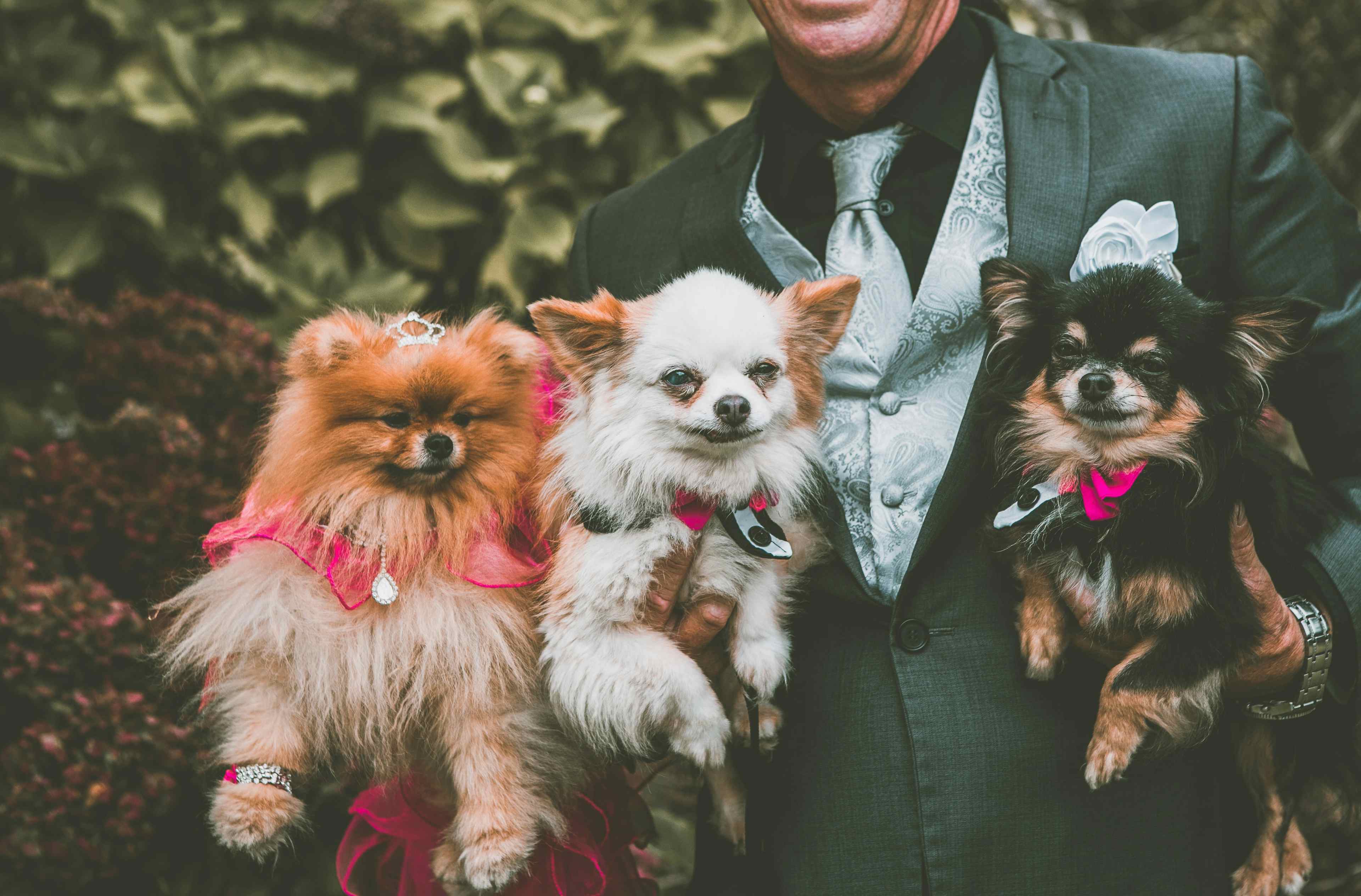 Keep them in mind from the start
The most important thing is to find a venue that is dog friendly. Luckily, Togather has that covered.
Simply tell us about your event and add a note that you're looking for a dog-friendly venue, and we can tailor your quotes straight away.
Many couples now request that their dogs be in attendance, and venues are adapting. This means more venues are allowing dogs, but not all of them. Find out in advance if they're dog-friendly, so you don't waste any time on wedding planning.
Have them walk down the aisle
The ultimate way to involve your dog in your wedding is to have them walk down the aisle with you. You could get a custom lead or harness, so everything matches. You'll need to organise who you'll be handing them over to beforehand - usually one of your bridesmaids or groomsmen.
You could also have them walk down the aisle as a ringbearer and bring the rings to you via a basket that they carry (if they are trained to do so) or strapped onto them with a cushion. Either way is equally cute.
Reserve a seat for them on the front row
Your dog deserves the best seat in the house - they're part of the family, after all. You could reserve a seat for them on the front row and hope they sit there for the duration like a good dog, or simply place a framed photo there instead, so they can be with you in spirit.
Feature them on your signage, décor, or stationery
Another great way to include dogs at weddings is to feature them in the design and décor in some way. This can be from your save the dates and invitations to your place names and wedding favours on the day.
You could discreetly (or not so discreetly) embroider their name or image onto pocket squares, suits, or dresses. You can get custom cufflinks, hair pins, and jewellery, too. Get creative. There's no limit to what you can get for pets nowadays as the market is so popular right now. You can search online to find what's right for your special relationship with your dog.
Dress them for the occasion
Imagine your fur baby wearing a bow tie, bandana or outfit that matches the theme of your wedding. You can get custom pet accessories on sites like Etsy to get the perfect match for your big day.
You could even get them a custom collar or nametag. Of course, only do this if your pet is comfortable wearing accessories or outfits – you don't want dramas on the day!
Feature them on your wedding cake
While you might not want your dog sitting with you as part of the wedding catering, you could ask your cake designer to feature your pet on your wedding cake. This can be as obvious or as subtle as you want. Get the designer to make something that matches your pet and their personality. There are some great examples online of wedding cakes that feature their dog biting a chuck of cake from the bottom or sitting proudly next to their paw-rents on the top tier. Give the cake designer plenty of notice and lots of good quality photographs to work from, so the icing version is just as cute as the real thing. Lots of our wedding caterers are also able to personalise their menus and dish names, so you could have a nod to your furry friend there too!
Take photos during the 'getting ready' portion of your day
If your dog won't be there to celebrate with you for the whole day, set time aside for a photo shoot as you're getting ready. Tell your wedding photographer in advance that your dog will be there so they can plan some dog-friendly photo ideas.
You can still involve them in your day and get some great photos to cherish. These work best as candid photos as your pet interacts with you naturally and will make sure they feel part of your special day.
Ask for donations
If your dog was a rescue, you could set up a table for donations of money, toys, and treats for a local animal shelter or charity. This is also a good idea if your beloved pet has passed away and you still want them to be a part of your day.
Make them into a cardboard cutout
Ok, stay with us on this one. It's a quirky idea, but it works. Guests will find it funny; your dog can still be in all the photos, and they will be perfectly posing every time. You can get custom cardboard cutouts online, and they will last for other events too.
Make time for training
Training for dogs before the big day will make them more comfortable on the big day itself. Get them used to busy spaces with lots going on. Take them to your local pub or dog-friendly shops to give them the exposure they need to feel comfortable in similar situations.
If someone you know is having a dog-friendly wedding too, even better. No matter how much you plan, you should be aware that having your dog there may not always go the way you hoped. You should make some allowances and enjoy this special time with your dog.
What to consider with dogs at weddings
At the risk of sounding like a killjoy, there are some potential downsides to bringing your dog along. Take a moment to think about what is best for them. Every dog is different. Will they really be comfortable and enjoy the day alongside you, or would it be best to arrange for them to spend a fun-filled weekend at doggy day care instead?
Your dog will need a designated carer for the day. Think about who'll take care of your dog when you are having photos taken or are chatting with guests

Is your dog a large breed that gets over-excited sometimes?

Who'll walk your dog down the aisle?

Is your dog comfortable in busy places?

Does your dog tend to bark a lot?

Who'll be responsible for the dog during the wedding ceremony?

Will the noises scare them?

Will your dog be there for the evening celebrations?

What about toilet breaks and exercise?

Is there space for them to have their food away from the main event?

Some venues require you to pay a fee to bring your dog to cover any accidents or damages.
Having your dog at your wedding could be great, but it needs to be right for you and your dog. To get quotes from the best dog-friendly venues or research suppliers that have experience working with pets at all kinds of events, start your journey to the perfect dog-friendly wedding. If you're looking for an epic gin bar for your wedding, we can help with that too!